BEIJING -- A spokesman of the State Grid Corporation of China (State Grid) said here Wednesday the country has become the world leader in the development of ultra-high-voltage (UHV) power transmission and transformation technology.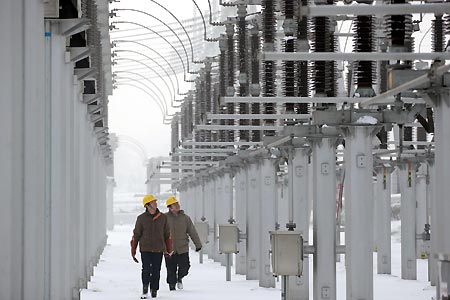 Two workers of Huaibei power company inspect the transformer substations in Huaibei, east China's Anhui Province, Jan. 29, 2008. [Xinhua]
In recent years, China has achieved an overall breakthrough in UHV core technology and the localization of UHV equipment, with more than 100 domestic manufacturers and suppliers participating in the manufacturing and supply of UHV equipment, Ma said at the annual General Meeting of the China Business Council for Sustainable Development (CBCSD).
Related readings:


 Power use decline slows on recovery signs


 Huadian Power to raise $512m in share issuance


 Wind power capacity likely to rise 64% this year


 Eighteen Palms of power to kick a dragon's butt
In January 2009, the world's first 1000kv UHV Alternating Current transmission project, known as the Jindongnan-Nanyang-Jingmen UHVAC transmission project, was put into operation. It marks a breakthrough in the technology of long-distance, large-capacity and low-loss UHV power transmission.
The project has been organized and independently innovated by the State Grid, said the company official. So far, the State Grid has formulated 47 national standards and a whole set of specifications for UVH project design, construction, operation and maintenance, he said.
Ma said that the standard voltage of China's UHVAC is recommended as the international standard by the International Electro Technical Commission and the International Council on Large Electric System.
The International Electro Technical Commission has set up an HV Direct Current New Technology Board, with its secretariat based in China. It is the first time that the commission has placed the secretariat of a board in China, according to the State Grid official.
By 2012, the company plans to set up a large coal-electricity base linking together Shanxi and Shaanxi provinces, the Inner Mongolia Autonomous Region, and other economically-challenged western parts of the country, as well as a UHV network for eastern and central load centers.
By 2020, the company will build up a synchronized power grid mainly consisting power grids of northern, eastern and central parts of the country. By then, the country's total transmission capacity of UHV power grid will have reached 300 million kw.