GUANGZHOU -- The 105th China Import and Export Fair opened Wednesday in this capital city of southern China's Guangdong Province, with a backdrop of economic slowdown caused by the international financial turmoil, but it did not dampen confidence and hope among participants.
The eye-catching barometer of China's external trade, the biannual event, also known as Canton Fair, is to be held in three phases. The first will be held between April 15 and 19, the second from April 24 to 28, and the third from May 3 to 7.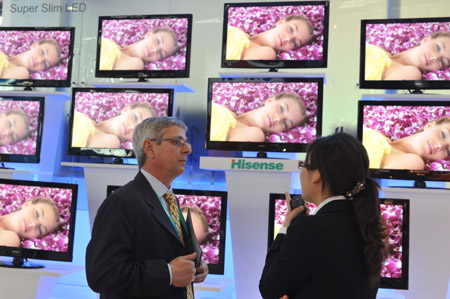 Exhibitors talk during the 105th China Import and Export Fair, also Guangdong Fair, in Guangzhou, south China's Guangdong Province April 15, 2009. [Xinhua]
The number of attendees is down to 22,104 -- 237 fewer than last year, partly because of the expanding economic downturn. The total included 8,000 buyers from 48 purchase teams.
Related readings:


 Canton Fair to focus on home turf


 It's business as usual for all at Canton Fair


 Hotels cut rates to attract guests during Canton fair


 Canton fair woos emerging markets amid crisis
Some 395 companies from 36 countries, including 12 from five less-developed countries, would be exhibited in the import section, the organizers said.
Despite the financial crisis, "we are still confident in our own brand. The customers we attracted over the past four years are loyal and reliable, and and orders from Europe remain stable," Fang Jiaqing, international sales manager with Zhongji Export LLC based in southwestern Sichuan Province, told Xinhua Wednesday.
The company sells diving pumps and motors mainly to European nations, including Germany, Britain and Denmark. Fang said his company wanted to woo some clients from the Middle East at the fair.
John Zacharatos, a buyer from Panama said that the Canton Fair had provided his company with quite a few business opportunities over years. This time he came here to search for Chinese products of good quality and lower prices. His company's sales slid 30 percent last year. He said the company wanted to cut costs to offset losses.
Another purchaser, Adeleon from Mexico, said though the financial crisis had jolted the United States, he felt the Mexican economy was still in a stage of development and his company was expanding. He said he had seen information about the Canton Fair on the Internet, and hoped he could find good-quality but cheaper China-made electronics here.
Ningbo Aux Import and Export Co., Ltd. from eastern China's Zhejiang Province has expanded its booth at the fair by 50 square meters from the year-earlier level to 300 square meters, said the company's vice general manager, Cai Jingquan.
Aux sells 45 percent of its white home electrical appliances and electric products to overseas markets.
"Despite the toughness brought by the financial woes, we still hope our sales will increase 20 percent this year. We see the trade fair as a good opportunity to display our new products and to explore new markets," Cai said.
Huang Haibin, international sales manager with Shandong Joyoung Co. Ltd. from eastern China's Shandong Province, said the financial crisis helped drive down his company's sales growth rate down to less than 30 percent last year, as against average annual increase of 50 percent before the economic turmoil.
"The Chinese Government has made exertions to warm up the foreign trade, which have benefited my company and our partners," Huang said.
"For instance, our American importers garnered profits from China's tax rebate policy."
Customs data shows in March China's foreign trade stood at US$162.02 billion, a year-on-year decline of 20.9 percent. But the decline rate was 6.3 percentage points below the January-February level.
According to Datuk Yong Ah Pwi, head of Malaysia-China Chamber of Commerce, 44 Malaysian companies are taking part in the import section of the fair.
Yong said in comparison with developed countries, ASEAN nations and China were less affected by the financial crisis. Both sides are attempting to find a way to surmount the current difficulties through mutual support.
Malaysia is attaching great importance to China's policies to boost domestic consumption. The southeast Asian country hoped to sell more coffee, garments and foodstuffs with Malaysian characteristics to China, said Yong.