Digging started to widen Shanghai's oldest cross-river passage -- the Dapu Road Tunnel, a key part of the city's 2010 World Expo traffic infrastructure.
The 1.5-billion-yuan (US$219 million) project will double traffic capacity when it's finished around the end of next year. It will add a second tube to the existing tunnel, which is a major Huangpu River passage between Luwan District in Puxi and Pudong New Area.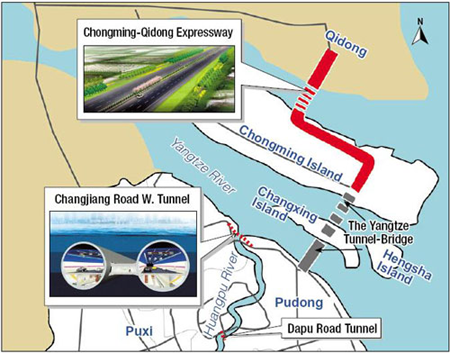 The country's widest digging machine -- a 11.22-meter-diameter "shield" -- started snaking underground yesterday to create the new tube shell for the tunnel, said Shanghai Tunnel Engineering Co, the project operator.
The new tube starts in Puxi at the intersection of Zhongshan Road S1 and Rihui Road E. and will end in Pudong at the intersection of Yaohua Road and Changqing Road.
It will be 2,969 meters long, about 200 meters longer than the nearly parallel existing tube.
The Dapu Road Tunnel has been in service since 1970. Due to the limited technologies of that era, the tunnel was completed as a single tube, while later tunnels had twin channels.
Even so, the Dapu Road tunnel set a milestone in the city's traffic history as it allowed locals to drive vehicles across the Huangpu River for the first time instead of using ferries.
In recent years, because of its age and limited capacity, its former dominance was lost to the Yan'an Road E. Tunnel.
The new project will refresh the tunnel's importance, as it will be one of the major underground access links to the 2010 World Expo site, project designers said. The current Dapu Road Tunnel and its nearby Lupu Bridge would not be able to handle the expo's traffic pressures, they said.
When the project is complete, the original tube will carry traffic one way from Pudong to Puxi while the new tube will serve vehicles going the opposite direction.
Each tube will have two driving lanes and a speed limit of 40 kilometers per hour.