PATTAYA, Thailand: Signs the Chinese economy is improving have been better than expected, Premier Wen Jiabao said here on Saturday.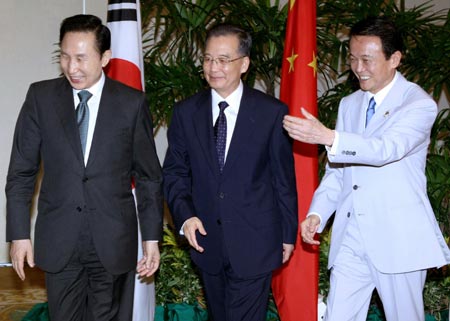 Premier Wen Jiabao(center) walks with South Korean President Lee Myung-bak(left) and Japanese Prime Minister Taro Aso before their joint meeting on Saturday in Pattaya, Thailand. [Agencies] 
Consumer demand has grown steadily and, though lower than the same period last year, imports and exports grew on a month-on-month basis during the first quarter of the year, Wen said.
Industrial output increased 3.8 percent year-on-year in January and February, with a surprisingly strong 8.3 percent yearly increase in March.
Wen said the purchase management index and the entrepreneur confidence index both rose, and market confidence has gone up, with increases in both the stock market and housing market transaction volumes.
The positive performances in economic markers suggest the central government's policies have been successful, the premier noted.
The premier was in Pattaya to attend the ASEAN summit and related meetings. He returned home ahead of schedule late on Saturday after the Thai government postponed the summit because of domestic political unrest.
In response to questions about whether China would introduce additional economic stimulus plans, Wen said the government should first step up efforts to carry out the policies and measures of the existing stimulus package. Additional funds for stimulating the economy that were included in the budget need to be released, and specific rules for reforming and reviving key industries should be formulated as early as possible, the premier said.
Also, efforts should be made to speed up the development of the social security system, Wen said, adding that the national medical and recently launched healthcare system reform, which has attracted international attention, should be implemented as early as possible.
The premier said the country's economy is still facing very serious hardships, which can be attributed to the shrinking of external demand and a relatively sharp fall in exports.
"This has negatively impacted domestic export enterprises, export-oriented industries and export-oriented zones, and has resulted in decreases in corporate profits, declines in financial revenues and heavier pressure on employment," he said.