URUMQI: A "vital" trade and energy deal has been agreed between Xinjiang Uygur autonomous region and the bordering North West Frontier province of Pakistan, it was announced yesterday.
Both areas have vowed to further explore partnerships over oil and gas resources, trade, sustainable energy, agriculture and water-saving and irrigation technology, explained Nur Bekri, the chairman of the region.
"As the closest province to Pakistan, Xinjiang is obliged to contribute to the firming up of relations between the two nations," he said after signing the deal in capital city Urumqi.
Masood Kham, Pakistani ambassador to China, added such cooperation was "essential" and that the "long-awaited direct rail connection between the two will be put on top of both governments' agendas".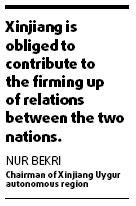 He said Pakistan was also looking forward to working with Xinjiang on a currency settlement for cross-border businesses.
The People's Bank of China has already issued permission for Pakistan's biggest international bank, Habib Bank Ltd, to open accounts in renminbi, while it has an existing strategic partnership with Urumqi Commercial Bank in share-holding and staff training.
Despite the global downturn, Sino-Pakistani cooperation still has profound potential, said Nur Bekri, adding the region will this year start its upgrade project on Hongqi Lapu, the land connecting China and Pakistan in the Tashi Kuergan Tajik autonomous county.
"With strong government support and input, the project will be a success and will further boost trade and communication," he said.
To address concerns about safety, Masood told the local media that the Pakistani authority had made it a top priority to protect Chinese people in Pakistan, allocating multiple resources and security forces.
He reiterated that joint efforts should be made to oppress evils, maintain peace and stability, and promote harmony in both countries. To achieve that goal, China and Pakistan must deepen ties to oppose terrorism, extremism and separatism, he added.