The proportion of impoverished Chinese fell from 65 percent of the population in 1981 to 4 percent in 2007, during which time more than half a billion people were hoisted above the poverty line, the World Bank's newly released poverty assessment report on China has said.
Entitled From Poor Areas to Poor People: China's Evolving Poverty Reduction Agenda, the report called China's poverty reduction during the last 25 years "enviable".
It pointed out the rapid growth resulting from economic reforms had been central to China's successful poverty alleviation. From 1981 to 2005, real per capita GDP grew by 8.3 percent annually, while the poverty headcount index fell by 7.1 percent per year.
But the report pointed out the task of poverty reduction has remained ongoing and has become more difficult in some respects.
Related readings:


 Still much to be done in fight against poverty

 Battling against poverty


 Poverty relief is deputy's passion

 28 million to benefit from new poverty standards
"Measured by international standards, the number of poor remains high, with China home to the world's second largest number of poor in any country after India," the report said.
China's official poverty counts are comparatively low, because they are measured according to a lower poverty threshold, it said.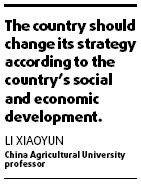 By China's poverty standard, the poverty rate in rural China fell from 18.5 percent in 1981 to 2.8 percent in 2004. And the number of rural poor declined from 152 million to 26 million.
Other poverty reduction hurdles include widespread income shocks, increasingly dispersed poor, growing income inequality and large transient populations in cities.
The report called for a broadening of China's poverty reduction strategy.
It suggested the country use a more adequate poverty-line threshold to identify the poor.
In addition, China should view social protection and human development as integral elements, the report said.
"The report provides a great reference for the government to develop poverty reduction schemes, such as optimizing the poverty assessment process and increasing poverty reduction efficiency," Zhang Lei, director-general of the State Council's leading group office of poverty reduction and development, said.
China Agricultural University professor Li Xiaoyun said: "The report is timely and relevant, because China will soon draft its 2010-2020 poverty reduction strategy.
"The country should change its strategy according to the country's social and economic development," he said.
"Since the remaining poor are in some areas dispersed, rather than centralized, the strategy should target the household level rather than the regional level."