BEIJING -- Chinese President Hu Jintao on Tuesday sent a message of condolences to his Italian counterpart Giorgio Napolitano over the heavy loss of life and property in a deadly earthquake that struck central Italy.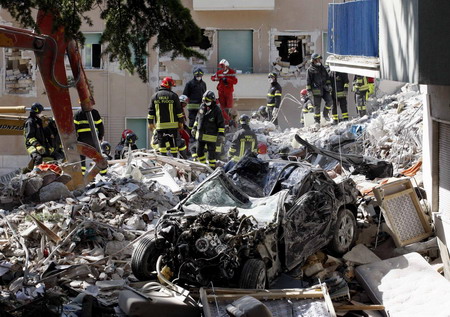 Rescuers work over a destroyed house a day after an earthquake struck the Italian city of Aquila April 7, 2009.  [Agencies]
In the message, Hu expressed condolences to the victims and their families and those affected by the earthquake on behalf of the Chinese government and people as well as in his own name.
Related readings:


 Italy quake killed 207, hurt about 1,000


 Strong quake in Italy kills over 150, wounds 1,500


 At least 92 killed in Italy earthquake


 Italy earthquake death toll rises to 70
Hu believed that, under the leadership of Napolitano and the Italian government, the Italian people will overcome the difficulties arising from the quake and restore the normal life and work in the quake-affected areas at an early date.
A powerful earthquake hit central Italy early Monday, killing 207 people, injuring about 1,500 and leaving around 70,000 homeless, said the latest reports.
China's top legislator Wu Bangguo and Premier Wen Jiabao also sent messages of condolences to Italian Senate Speaker Renato Schifani, Chamber of Deputies Speaker Gianfranco Fini and Prime Minister Silvio Berlusconi, respectively.