A prominent psychiatrist is trying to douse a firestorm of criticism after dozens of people descended on Peking University in protest against his remarks on mentally-ill petitioners.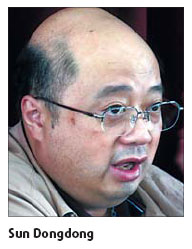 Sun Dongdong, head of the university's judicial expertise center, ignited public anger by suggesting that 99 percent of people who repeatedly petition the government are mentally ill. The center helps judicial authorities evaluate a person's mental health.
"I extend my sincere, deep apology to those people whose feelings are hurt," Sun said in a statement sent to China Daily yesterday.
"I have absolutely no prejudice against those petitioners and I'll learn to be careful with my words and behavior in the future."
The law allows people to challenge government or judicial decisions they consider unfair by filing petitions to dedicated departments in most ministries and institutions; and some file petitions repeatedly if they consider their grievances have not been addressed to their liking.
Sun's comments were published in the March 23 issue of China Newsweek. When asked whether it's proper to send petitioners to mental hospitals, he was quoted as saying that "99 percent of professional petitioners are mentally ill, most of them paranoid, and could be forcibly detained in mental hospitals" because they were disturbing public order.
Sun said some of his words were used out of context by the media and misinterpreted by the public. He said he didn't say 99 percent of all "professional petitioners" in the country are insane - only 99 percent of "those who he has met".
He said he has come into contact with hundreds of them but "only those suspected of having mental illness are sent to me".
Sun said that although China Newsweek misquoted him, "I still consider that I was careless in making such a statement".
The story generated widespread criticism, especially from petitioners and lawyers. About 40 petitioners went to the university to seek an apology on April 1.
"Sun's conclusion is shocking and irresponsible. What is more scary, it's from a mental-health professional who's helping draft the mental health law," Zhou Li, a petitioner who joined the protest, said.
The draft law tries to address issues in mental health such as early intervention, coping with the stresses of modern life, and care for psychiatric patients. Sun confirmed that he is on the expert team helping draft the law.
Zhou told China Daily the protesters failed to meet Sun because they were "thrown out of the school by guards".
Zhou said most of her fellow petitioners would like to know how the professor arrived at the 99 percent figure and how he defined "professional petitioners". She also said it's cruel to subject people to unnecessary treatment at mental hospitals.
Sun also explained that "mental illness" covers almost all types of mental disorders such as stress, temporary anxiety or depression. "It's a broad concept, not what the general public considers to be insanity," he said.
Xu Zhiyong, a Beijing-based human rights lawyer, said the wide criticism of Sun can be seen as an outlet for petitioners' anger at "an unfair society".
"To some extent, Sun is just a target," he said. "Anyway, arguing with a scholar is much easier than with an official."
Yu Jianrong, director of the social issue research center affiliated to the rural development institute of the Chinese Academy of Social Sciences, said scholars should be more careful with their words.
"I believe a stronger sense of social responsibility and more sympathy for the weak can help professionals see the broader picture."