BEIJING -- China Monday unveiled a blueprint for health-care over the next decade, kicking off the much-anticipated reform to fix the ailing medical system and to ensure fair and affordable health services for all 1.3 billion citizens.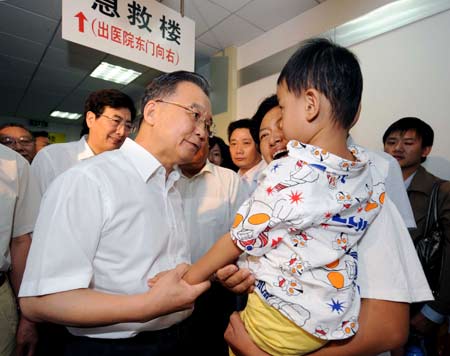 Chinese Premier Wen Jiabao (L, front) talks to a child at Beijing Children's Hospital in Beijing on September 21, 2008. [Xinhua]
The Central Committee of the Communist Party of China and the State Council, or China's Cabinet, jointly endorsed and issued the Guidelines on Deepening the Reform of Health-care System after more than two years of intense debate and repeated revision.
Related readings:


 Rural health staff on alert of HFMD outbreak


 Health plan for Shanghai teens in pipeline


 China to boost spending on welfare, education, health care


 Wen: China's health care reform aims at public interest
By 2020, China will have a basic health-care system that can provide "safe, effective, convenient and affordable" health services to urban and rural residents, according to the tone-setting document.
This will be supplemented by a more detailed implementation plan for the three years until 2011. The plan has yet been published, but the State Council announced earlier this year an investment plan of 850 billion yuan (US$124 billion) for the reform.
The core principle of the reform is to provide basic health care as a "public service" to the people, which requires much more government funding and supervision.
The document said the government role in "formulating policies and plans, raising funds, providing service, and supervising" must be strengthened in order to ensure the fairness and equity of the service.
The reform is aimed at "solving pressing problems that have caused strong complaints from the public," it said, referring to long-standing criticism that medical services are difficult to access and increasingly unaffordable.
The government will improve the public health network for disease prevention and control, health education, mother and infant health care, mental health and first aid service, according to the blueprint.
Public hospitals will continue to be dominant providers of medical services, while more priority will be given to the development of grassroots-level hospitals and clinics in cities and rural areas.
The government also plans to set up diversified medical insurance systems in order to have urban employees, urban residents who do not work and rural residents covered by some sort of insurance plan.
The reform is also aimed at improving the medicine supply system so that public hospitals and clinics are supplied with essential medicines with prices are regulated by the government, according to the blueprint.