Local authorities yesterday refuted fresh accusations that 12 migrant workers in Anhui province died from laboring in unhealthy quartz mills, citing lack of evidence.
"It is still early to draw the conclusion that the workers died from working in the quartz-crushing mills in Fengyang county," the county's publicity chief, surnamed Chen, told China Daily yesterday.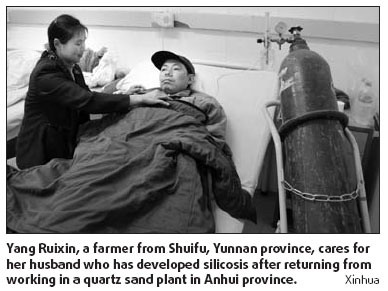 Local media reported two weeks ago that 12 of the 77 migrant workers, who used to work in the mills in Anhui between 2004 and last year, died after they returned home to Shuifu county in Yunnan province.
Medical tests carried out by the county government showed that at least six of the workers died from silicosis - an incurable lung disease caused by inhaling silica dust while drilling, cutting, crushing, grinding or blasting slabs of stone - and at least 30 of the surviving 65 workers are suffering from the disease, the local government said. Twenty-two of the workers were reportedly still in hospital as of last Friday.
Various government departments in Fengyang have "still not been punished" by the authorities and "all refused to take responsibility" for the workers' deaths, the Xinhua News Agency reported yesterday.
Chen yesterday said an investigation team sent by the central government to collect evidence in Fengyang for the case had just returned to Beijing and had "not reached a conclusion".
The Shuifu county government did not provide enough proof for the probe, Chen said.
"We have yet to receive the complete list of victims and we are not clear when the workers came to Fengyang and which factories they worked in," he said. Since more than 9,000 migrant workers from Yunnan are said to suffer from silicosis and only 77 worked in Fengyang, it is not accurate to conclude that the diseases were contracted in the county, Chen said.
Fengyang is a famous production area for quartz rock, a raw material used for manufacturing glass, and at least one-quarter of all the nation's glass comes from the region, Chen said.
Shuifu county's publicity chief, surnamed Wang, also said the authorities were not sure if the Anhui mills had caused the workers' deaths.
"The occupational history of the migrant workers is complicated. Most of them went to work in many places before they returned home. So it is hard collecting their information, and also hard to ascertain where they got sick," Wang said.
Following media reports that many quartz-crushing plants in Fengyang are small, individual outfits with backward operations that provide limited safety for workers, the Fengyang publicity chief Chen said the authorities have also closed all of such small workshops in the county.
The World Health Organization estimated that at least 24,000 Chinese people die of silicosis every year, with most victims working in the rock crushing industry.