LHASA -- A celebration for the Serfs Emancipation Day started at 10 a.m. Saturday in the square of Potala Palace in southwest China's Tibet Autonomous Region.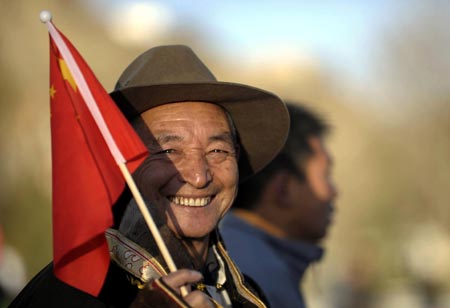 A Tibetan man holding a national flag attends a ceremony to mark the first Serfs Emancipation Day in front of Potala Palace in Lhasa, capital of southwest China's Tibet autonomous region, on March 28, 2009. [Xinhua]
The event was presided over in both Tibetan language and Mandarin by Qiangba Puncog, chairman of the regional government of Tibet who was dressed in a traditional Tibetan robe. It was attended by about 13,280 people.
After the national flag was hoisted against the backdrop of the grand Potala Palace and snow-capped mountains in the distance, representatives of former serfs, soldiers from the People's Liberation Army, and students delivered speeches.
Related readings:


 Curious about Tibet? Look, listen, see for yourself

 Tibet's day of facts

 'Tibet independence' daydream of separatists
Tibetan legislators endorsed a bill on January 19 this year to designate March 28 as an annual Serfs Emancipation Day, to mark the date on which about 1 million serfs in the region, accounting for 90 percent of Tibetan population, were freed 50 years ago.
On March 28, 1959, the central government announced it would dissolve the aristocratic local government of Tibet and replace it with a preparatory committee for establishing the Tibet Autonomous Region. That meant the end of serfdom and the abolition of the hierarchic social system characterized by theocracy.