The mainland and Taiwan could work together on Taiwan's participation in the World Health Assembly (WHA), a mainland official said yesterday.
Both sides should continue to "put forward efforts and create favorable conditions" to pave the way for Taiwan to become an observer to the meeting, said Fan Liqing, spokeswoman of the Taiwan Affairs Office of the State Council.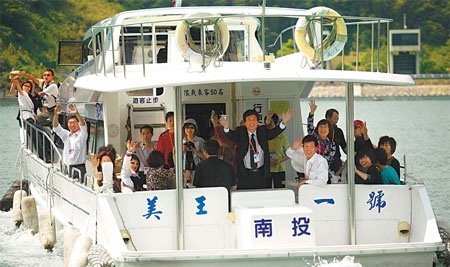 Tourists from the mainland take photos on a ship sailing on the Sun Moon Lake, a major tourist attraction in Nantou, Taiwan, on March 18. The group was one of the largest to have visited the island since direct travel links were opened last year. [Wang Yan/China Daily] 
The WHA, to be convened in May, is the forum through which the World Health Organization (WHO) is governed.
Taiwan-based China Times said on Tuesday that the mainland has agreed to support Taiwan to become a WHA observer under the name of Chinese Taipei.
Fan didn't confirm the report.
Related readings:


 Chinese mainland would push trade pact with Taiwan


 Taiwan rules out Dalai's third visit


 Slowdown could aid ties with Taiwan


 Taiwan a red-hot destination for mainland tourists
Su Minsheng, former vice-chairman of the All-China Federation of Taiwan Compatriots said Fan's remarks convey the mainland's goodwill, but "with reservation".
"The ball is in Taiwan's court. It depends on whether the island's government adheres to principles such as one-China policy," Su said.
As cross-Straits ties have warmed since Ma Ying-jeou became Taiwan "president" last May, Su said, Taiwan is likely to become a WHA observer in May.
WHA has five observers - the Vatican, the Palestinian Authority and the Order of Malta, International Committee of the Red Cross, and International Federation of Red Cross and Red Crescent Societies.
Mainland leaders, including President Hu Jintao and Premier Wen Jiabao, said this year that the mainland is willing to discuss with the island its participation in international organizations under one-China principle.
In January, Taiwan was admitted to the International Health Regulations, the global health alert mechanism under the WHO, with the mainland's help.
Taiwan has been eager to attend international organizations to expand its presence. But its efforts, including the bid since 1997 to join the WHO, have been thwarted.
In an interview with Yahoo news, Ma said discussions of Taiwan's representation in the WHA had started in December.
According to China Times, Ma said the discussion has reached a final stage and an announcement will be made next month.