The State Council yesterday gave the green signal to speed up the process of turning Shanghai into a major international financial and shipping center by 2020.
"Accelerating Shanghai's development in modern services, manufacturing, finance and shipping would be of great advantage for the Yangtze River Delta and the whole nation at large," it said at an executive meeting.
It urged Shanghai to be developed into a multi-functional financial center by 2020 to keep up with "China's economic influence and the yuan's international position."
To achieve the target, Shanghai needs to open up more financial sectors and improve services.
Shanghai can now expect strong growth momentum after the city's industrial output dropped by as much as 12.7 percent year-on-year in the first two months of the year due to dwindling exports.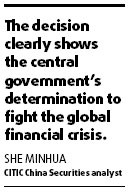 Shanghai's GDP growth dropped to 9.7 percent year-on-year in 2008, the first time it fell below 10 percent since 1992.
"The decision clearly shows the central government's determination to fight the global financial crisis," She Minhua, a Shanghai-based analyst from CITIC China Securities, told China Daily.
With government support, financial companies in Shanghai will now have the opportunity to pilot many financial innovations. For example, they could develop into first-tier financial holding groups that deal with various types of financial businesses like lending, insurance and brokerage, he said.
More than 184 multinationals had set up their regional headquarters in Shanghai as of January 2008.
However, economic indicators have shown that the impact of the financial meltdown on Shanghai is more severe than most of the other cities due to its export-oriented economy.
In January and February, of the 30 export-oriented industries, 27 showed falling export volumes, and by more than 10 percent in 22, according to the Shanghai statistics bureau.
The meeting also decided to raise tax rebates on some textile, iron and steel, nonferrous metal, petrochemical, electronic information and light industrial exports starting April 1.
The meeting agreed that it was necessary to raise tax rebates on some export products to fully implement the country's economic stimulus package and the support plans for 10 industries, which were released in the past two months.
The rates of the rebates have not been revealed.
The government raised export tax rebates rate for textiles four times since last August, the last increase in February rising to 15 percent from 14 percent.
The nation's exports plummeted 25.7 percent year-on-year in February, the worst decline in more than a decade.
Xinhua contributed to the story