GENEVA -- China complained at the World Trade Organisation (WTO) on Wednesday at India's ban on toy imports from China.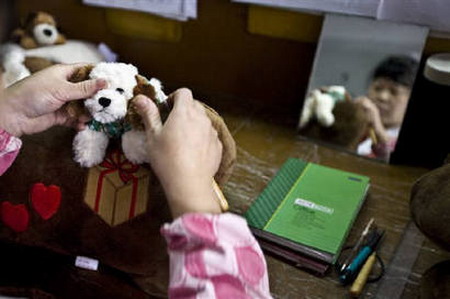 A worker fixes a toy at the production line of a toy factory in suburbs of Shanghai October 31, 2008. [Agencies]
Related readings:


 Indian toy dealers run out of stocks due to govt ban on Chinese toys


 China toy exports slowdown amid shrinking world demand


 Trade: China may ask for WTO probe into India's toy ban


 China blasts US ban on its poultry
While stopping short of launching a formal trade dispute, China used a meeting of the WTO's technical barriers to trade committee to raise the issue, which has soured relations between the two emerging markets giants.
The row has been closely watched as an example of trade tensions between developing countries at a time when fears are growing that protectionist measures could make the economic crisis worse.
China told the committee the ban was discriminatory and violated basic WTO principles, a participant in the meeting said.
India said it had held talks with China on the issue and it hoped forthcoming high-level talks would resolve the matter.
Chinese Vice-Minister of Commerce Zhong Shan is visiting New Delhi this week.
India imposed a six-month import ban on toys from China in January, citing the public interest, later making it clear that it had health and safety concerns about the products.
On March 2 it relaxed the ban to allow shipments certified by global safety agencies.
Economists express concern that health and safety standards can be abused to keep out imports.
Last Thursday China raised a US law blocking imports of Chinese poultry at a WTO meeting on food safety. The block has severely affected the operation of China's poultry producers, Yao Jian, spokesman of China's Ministry of Commerce said Monday.
US Representative Rosa DeLauro, who heads the congressional subcommittee behind that rule, said on Wednesday that the United States had serious issues with food imports from China.