"Little Giant" Yao Ming still towers over other Chinese celebrities, both in height and in his wallet.
The basketball phenom, who earned 357.77 million yuan (US$52.3 million) in 2008, continues to top the Forbes list of Chinese celebrities for the sixth time, unveiled by the Forbes China Tuesday.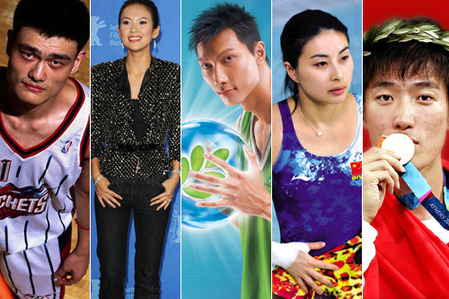 From left to right, Yao Ming, Zhang Ziyi, Yi Jianlian, Guo Jingjing and Liu Xiang. [File Photo]
Though his wealth shrank compared to the 388-million-yuan ($56.6 million) he made last year, the Houston Rockets center still grabs most of the spotlight among Chinese celebrities both in earnings and media appearances.
Forbes China releases the top Chinese Celebrity List every March, ranking 100 celebrities born in the Chinese mainland who work in the areas of entertainment, culture, media and sports.
The overall ranking of the 100 stars is determined by their personal income and public influence as media coverage, web hits and commercial value over the past year.
Due to the Beijing Olympics last year, Chinese sports stars drew more attention in 2008. Of the top 100 Chinese celebrities, 22 are sports stars, a 22 percent increase from last year.
Liu Xiang, the 110-meter star hurdler, drops from second to fifth spot in the overall ranking. But he's still a runner-up to Yao Ming in terms of income and public appearances with 130.28 million yuan (US$19.06 million) in 2008.
Yao's basketball counterpart Yi Jianlian, the New Jersey Nets forward, comes in third. Yi only ranks the seventh in his earnings but is the second runner-up in media appearances because of the emerging star's athletic prowess which landed him on several international headlines last year.
Movie superstar Zhang Ziyi climbs to second spot overall from fifth in 2008.
China's "diving queen" Guo Jingjing jumps to fourth place this year, a huge leap from 28th last year.
Rounding out the top 10 list are personalities from the entertainment sector, including kungfu film star Jet Li, actress Zhao Wei, Fan Bingbing, Zhou Xun and Li Bingbing. Forbes China has released its Chinese Celebrity List for six consecutive years, with 25 Chinese stars who have continuously appeared on the list.
According to Forbes, the top 100 Chinese Celebrity List is the Chinese version of "The Celebrity 100," which ranked the US talk show diva Oprah Winfrey as the world's most powerful celebrity in 2007.
Overall Ranking

Name

Occupation

Income

(million yuan)

Income Ranking

Media Appearance Ranking

1

Yao Ming

athlete

35,777

1

1

2

Zhang Ziyi

actress

7,800

4

4

3

Yi Jianlian

athlete

3,710

7

3

4

Guo Jingjing

athlete

3,050

8

6

5

Liu Xiang

athlete

13,028

2

2

 

6

 

Jet Li

actor

3,000

9

7

 

7

 

Zhao Wei

actress

2,400

14

5

8

Fan Bingbing

actress

2,680

12

8

9

Zhou Xun

actress

2,700

11

11

10

Li Bingbing

actress

2,310

15

21
Sports sina contributed to the story