BEIJING -- The World Bank (WB) has cut its forecast for China's 2009 economic growth yet again - this time to 6.5 percent from 7.5 percent, it said here Wednesday.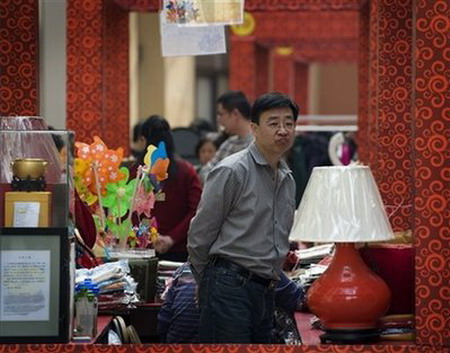 A salesclerk waits for customers at his store in Beijing, China, Tuesday, March 17, 2009. [Agencies]
This is the second cut the WB has made for China's 2009 gross domestic product (GDP) growth forecast. Last November its prediction stood at 9.2 percent.
Related readings:


 Wen: 8% GDP growth goal achievable


 China exploits path to growth in downturn


 World Bank: Global economy will shrink in 2009


 US, China should foster win-win relationship in the 21st century
Although China's economy had been hit hard by the global financial crisis, it was still holding up, the WB said in the China Quarterly Update.
The report, a regular assessment of the Chinese economy, found China's banks have been largely unscathed by the global financial turmoil and the economy still has plenty of space to implement forceful stimulus measures.
However, China's exports have been hit badly as the global crisis intensified, affecting the market-based investment and sentiment, notably in the manufacturing sector. This was bound to contain China's growth in 2009 and 2010, it said.
China's exports plummeted 25.7 percent year on year in February after January's 17.5-percent plunge, the worst performance in a decade. February imports slumped 24.1 percent.
The country's GDP grew by 9 percent last year. The Chinese government has set an 8 percent GDP growth target for 2009.
However, Zhang Hanya, an economist with the National Development and Reform Commission, the country's top economic planner, forecast the country's GDP would grow 10 percent this year if the government's economic stimulus measures paid off.
China's economic fundamentals were strong enough to look beyond 2009, and the country should give less emphasis on short-term growth and more on longer term issues, said the report.
China was a relative bright spot in an otherwise gloomy global economy, said David Dollar, the WB's country director for China.
Shifting China's output from exports to domestic needs would help provide immediate stimulus while laying the foundation for more sustainable growth in the future, he said.