While maternal and newborn deaths have dropped in China, those living in the remote, rural areas remain exposed to high mortality risks, a UN report showed yesterday.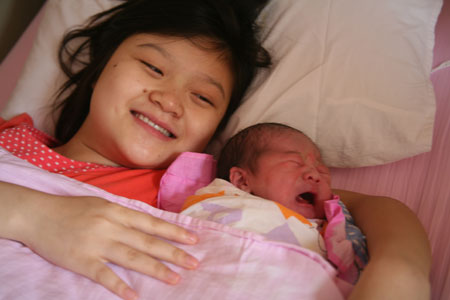 A mother smiles at her healthy newborn baby at a hospital in Guiyang, Guizhou province. File photo [China Daily]
Around 7,000 women die in childbirth each year in China, down 59 percent since 1990, but still representing 1.3 percent of the world's maternal deaths, according to UNICEF's latest State of the World's Children report for 2009.
Yin Yin Nwe, UNICEF representative in China, said: "While China has made great progress in maternal and child health in recent years, this report highlights that further gains can be made in reducing maternal and newborn mortality in China."
She said almost 1.6 times as many mothers died in childbirth in rural areas, compared to their urban counterparts and that there were 229,200 victims of neonatal mortality (death within the first four weeks of birth) in 2007.
Related readings:


 Regional gaps in maternal, baby health in China: UNICEF


 Obesity behind most child birth maternal deaths


 Child and maternal mortality high in South Asia
The report, released yesterday in Beijing, focuses on maternal and newborn health - key indicators of progress toward the Millennium Development Goals for 2015.
Early newborn death, or neonatal mortality, tops the list of preventable causes of child death in China at 60 percent.
However, the rates of maternal, child and infant mortality were brought down significantly over the last two decades.
China saw the world's fifth highest number of child deaths per year, with an estimated 382,000 children dying before their fifth birthday in 2007.
Maternal and child death rates in China are at an intermediate level by global standards, still far higher than that in developed countries and also higher than in some of the countries economically less developed than China.
Pan Ruyan, a professor of Public Health School at Peking University, said the large disparity in mortality rates between the people living in coastal and urban areas and remote rural communities was a key area of concern.
The report says that infant and child mortality is almost 2.7 times higher in the western than in eastern regions, 2.4 times higher in rural than in urban areas, and 2 to 5 times higher in the poorest rural counties than in large cities.