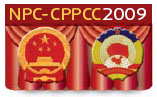 A recent landmark policy that allows rural land-use right transfers between farmers is expected to stir a heated debate at the National People's Congress (NPC) and the Chinese People's Political Consultative Conference (CPPCC) meetings this week, experts said Monday.
The central government last October gave farmers the right to transfer their land-use rights at free will for the first time since the founding of the People's Republic of China in 1949.
While many experts have welcomed the move, which aims to push forward rural development, several others have expressed their concern.
Full coverage:


NPC and CPPCC 2009
Related readings:

Income from land transfers plunges

China strengthens land management to boost domestic demand

Move to minimize land use disputes

China boosts land transfers to ensure better life for farmers
Dang Guoying, a researcher with the Rural Development Institute of the Chinese Academy of Social Sciences, said the process to transfer land was still too complicated, and local government officials were hoping for a "more relaxed procedure for approval".
Dang said the issue is bound to attract a heated debate at the 2nd Session of the 11th NPC - China's top legislature - which kicks off on Thursday, and the 2nd Session of the 11th National Committee of the CPPCC, the country's top advisory body, which starts today.
"Migrant workers have left behind a lot of farmland, which is rarely cultivated as each rural resident owns, on an average, only 1.38 mu (0.09 hectares) of arable land," said Cheng Shulan, a professor with the Renmin University of China. "The space is neither efficient nor profitable."
The recent drought that has hit large parts of north China followed by heavy snowfall has hurt the harvest, forcing many more farmers to leave behind their land and move to cities in search of a livelihood, media reports said.
Even though the October policy may prove to be a solid tool for encouraging farmers to work their farms, a number of real estate developers and some local officials continue to try and secure arable land for industrial projects, Cheng said.
"It defeats the entire purpose of encouraging migrant workers to transfer their land and work it," he said.
"Joint development of rural arable land should be facilitated on a careful, pro-poor, farmer-first basis," he added.
Farmland in the country is collectively owned and leased to farmers under long-term contracts.