Courts around the country have begun accepting compensation pleas filed by victims' families in the tainted milk scandal.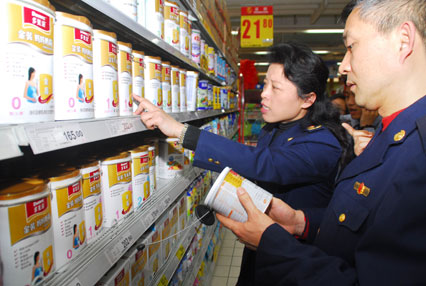 Food quality officials inspect dairy products at a supermarket in Hefei, capital of Anhui province, on Feb 12. [China Daily] 
The Qingdao intermediate people's court in Shandong province yesterday accepted the cases of 54 families whose infants developed urinary illnesses after drinking milk powder formula produced by Qingdao-based Syrutra International Inc.
The Sino-US joint venture, which produces milk formula under the brand name Shengyuan, was among the top three brands the national quality watchdog cited last September for containing the most excessive amounts of melamine. The forbidden chemical additive to dairy products had sickened 296,000 children nationwide, causing many to develop kidney stones.
Related readings:


More complaints about baby milk


Mother's milk best for little miracles


'Safe milk' may cause kidney stone


Dairy cows head for slaughter as milk prices sour
"The court accepted the pleas and said it will respond within a week," Li Jinglin, a Beijing-based lawyer who went to the Qingdao court with a colleague yesterday, said.
"Previously, the courts hadn't accepted or responded, but rather, just delayed (the cases)."
A Supreme People's Court senior official yesterday said courts are ready to accept victims' families' compensation cases.
"A small number of the infant victims' parents have not accepted the government-led compensation and have prepared pleas," executive vice-president of China's highest court Shen Deyong said during a live webcast on People.com.cn.
"The people's courts (at various levels) have prepared for the work. They will accept the compensation cases according to the law."
In another development, Shijiazhuang intermediate people's court called the lawyers representing 117 families whose children became ill after drinking milk powder from Sanlu - the brand at the center of the scandal - to arrange a meeting on Wednesday.
The court held the trials of the scandal's suspects in December and January.
Lawyers had sent compensation pleas to the same Shijiazhuang court twice - on Dec 29 and Feb 13 - but the court had not responded.
Xu Zhiyong, a Beijing-based lawyer representing 337 families whose children fell ill after drinking at least seven brands of melamine-tainted milk powder, said yesterday he hoped the court had finally opened the door for civilian compensation petitions.
The Health Ministry said at a press conference yesterday that nearly all compensation for the milk scandal's children victims - offered by 22 diary firms - has been paid.
These firms have contributed 900 million yuan ($130.43 million) to a compensation fund that will provide for the victims' healthcare until they become adults.
Xinhua had earlier quoted the government as saying more than 90 percent of nearly 300,000 victim families had accepted the compensation, including those of the six infants who died, who received 200,000 yuan each.