BEIJING -- A Chinese man who successfully bid for two looted bronze sculptures auctioned in Paris last week says his winning bid will not be paid.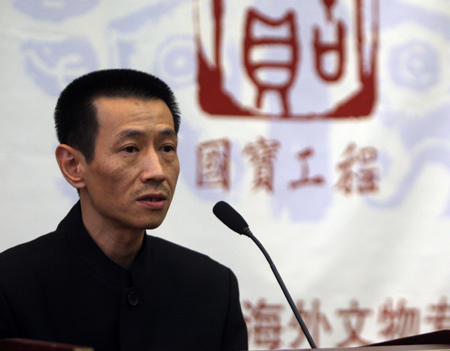 Cai Mingchao, the Chinese man who was the winning bidder for two bronze sculptures at a Paris auction last week, speaks at a news conference in Beijing, March 2, 2009. [CFP] 
Cai Mingchao, a collection advisor of National Treasures Fund, bid 31.49 million euros (US$39.63 million) by telephone during the auction at Christie's on February 25, Niu Xianfeng, deputy director of the fund, said at a brief press conference Monday.
"What I want to stress is that this money cannot be paid," Cai said at the press conference.
Related readings:


 Auction raises row over China´s lost treasures


 Chinese govt writes to Christie's to stop auction

 FM: Auction of looted sculptures hurts national sentiment


 China tightens control on Christie's after auction


 Relics on auction amid trial


 Lawyers vow to halt auction despite French court rule
"Every Chinese would have liked to do like this at that moment, and I'm honored to have the chance to make the bid," he said.
The National Treasures Fund was established in 2002 under the administration of China Foundation for the Development of Social Culture registered under the name of the Ministry of Culture for the purpose of repatriating looted Chinese artifacts.
A Xinhua reporter asked if he registered at the auction as a representative of the fund, but Cai only answered, "I did this on behalf of all Chinese people."
"The fund faces great pressure and risks by bidding for the two sculptures, but this is an extraordinary method taken in an extraordinary situation, which successfully stopped the auction," Niu said.
Earlier media reports said the 18th Century bronze heads of a rat and a rabbit were sold for 28 million euros as part of an auction of art works owned by the late French designer Yves Saint Laurent.
China has repeatedly demanded the return of the sculptures looted when the Old Summer Palace (Yuanmingyuan) was burned down by Anglo-French allied forces during the Second Opium War in 1860.
So far, five of the 12 bronze animal heads have been returned, while the whereabouts of five others are unknown.