China's lunar probe ended its 16-month mission with a controlled crash onto the moon Sunday, officials said.
Chang'e I hit the moon surface at 4:13 pm Beijing time Sunday after completing its tasks, sources with the State Administration of Science, Technology and Industry for National Defense said.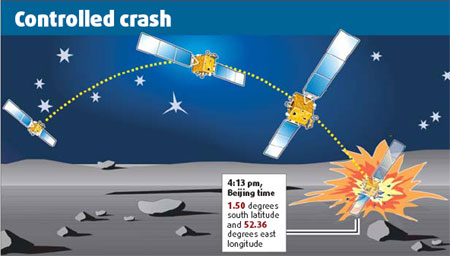 The controlled crash of Chang'e I is seen from this graphics, March 2, 2009. [China Daily]
Chang'e I began to reduce its speed at 3:36 pm with two observation and control stations in Qingdao and Kashgar controlling it remotely.
Related readings:


China to build space station in 2020


Unmanned space module to be launched in 2010


Astronauts share space tales


China's space industry takes off


Space walk mission returns to Earth
The mission was to gather experience for a moon landing and launch of a lunar rover - the next stage of China's three-stage moon mission - in 2012, sources with the administration said.
The third phase features another lunar rover, which will land on the moon and return to Earth with lunar soil and stone samples for scientific research, in 2017. It will be followed by a manned lunar landing, expected before 2020.
The country's first planetary probe, Chang'e I completed its tasks in October after a year in space.
Chang'e I, which spent 494 days in space, was launched from the Xichang Satellite Launch Center atop a Long March 3-A carrier rocket on October 24, 2007.
The 2,350-kg satellite carried eight surveying facilities, with which it conducted a three-dimensional survey of the moon's surface. A full map of the lunar surface - China's first - was transmitted back in November 2007.
China will launch its second lunar probe, Chang'e II, in 2010 or 2011. Chang'e is named after a legendary Chinese moon goddess.
The former Soviet Union's Luna 2 became the first spacecraft to hit the lunar surface on September 12, 1959.
Space module
China will launch a space module next year and carry out the nation's first space docking in 2011 as a step toward its goal of building a space station.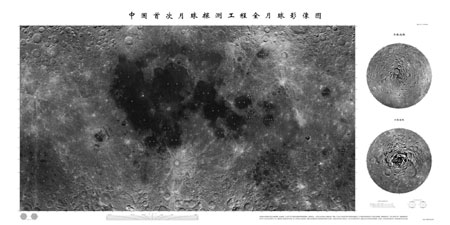 A full map of the lunar surface,  China's first of this kind, is seen in this picture released on November 12, 2008. [Xinhua]
The Tiangong I, or "Heavenly Palace I" is scheduled for launch in late 2010 and will dock with a Shenzhou VIII spacecraft early the following year, Xinhua News Agency said, citing officials with China's space program.
"The module, named Tiangong I, is designed to provide a 'safe room' for Chinese astronauts to live and conduct scientific research in zero gravity," the report said.
"Weighing about 8.5 tons, Tiangong I will be an essential step toward building a space station."
Space program officials have previously said China is expected to place in orbit several modules like the Tiangong and link them up to form a semi-permanent space platform.
China Daily - Agencies