The government has earmarked subsidies of 20 billion yuan this year to help farmers buy home appliances as part of its overall plan to boost domestic consumption.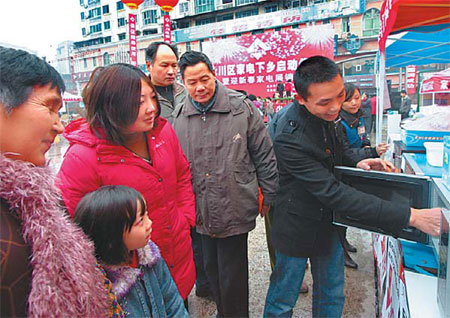 A shop clerk demonstrates the functions of a microwave oven to potential customers from the rural areas in Yongchuan, Chongqing. [Chen Shichuan] 
The subsidies could in turn lead to home appliance sales of around 150 billion yuan in the rural areas, said Liu Haiquan, an official with the Ministry of Commerce.
"The purchases will not be limited by the government subsidy, and the actual consumption could be larger," Liu said.
The government has decided to focus on rural areas to boost spending due to its immense potential. To achieve this it has decided to offer subsidies to boost home appliance sales and also build better retail networks in these areas.
Subsidies were given to farmers in several provinces in 2007 to buy home appliances like television, refrigerator and cell phones. This was later extended to other regions in 2008 and the purchase ambit widened to cover more articles like motorcycles, and microwaves.
In China, the income of farmers is lower than that of urban residents. The annual income of rural residents was 4,760 yuan per capita in 2008, compared with 15,800 yuan for urban residents, according to the National Bureau of Statistics.
Liu from the commerce ministry said income levels in rural areas are now similar to that of the urban zones in the late 1990s. During that period home appliances became popular quickly and sales soared within a short period. China can combat the financial crisis by boosting home appliance sales in rural areas, said Liu.
The government also aims to improve the purchasing power of farmers by providing more jobs along with the setting up of a retail network.
The plan is to set up 150,000 countryside stores this year, in addition to the current 260,000 stores, to help rural residents buy safe and quality products. The ministry also plans to establish 1,000 distribution centers, and 200 wholesale markets to complete the circulation network in rural areas.
By doing this, the ministry expects to create over 1 million new jobs in rural areas this year, said Chang Xiaocun, an official with the ministry in charge of market system construction.