GULF OF ADEN -- A Chinese naval vessel rescued an Italian merchant ship from approaching pirates in the Gulf of Aden off Somalia on Thursday.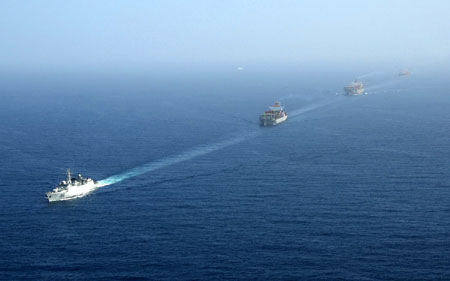 Merchant vessels sail in a line formation under command of the DDG-169 Wuhuan destroyer in the Gulf of Aden, January 6, 2009. [Xinhua]
Destroyer "Haikou" of the Chinese navy received a SOS from the Liberia-flagged Italian ship around 10:03 a.m. reporting two unidentified yachts were approaching just about 3 to 4 nautical miles away.
Full Coverage:

Global War against Pirates
Related readings:


 Naval fleet ends largest escort mission so far in Gulf of Aden


 China calls for increased UN role in Somalia


 Navy escorts Taiwan ship in waters off Somalia


 Chinese naval fleet sails into Gulf of Aden
A shipborne helicopter with three combatants and one photographer on board was immediately sent to the scene.
"When our helicopter reached the area, the two yachts were already close to the merchant ship. They were equipped with two engines and were traveling with high speed," said Captain Chen Yi.
Hovering around the Italian ship "LIA," the Chinese helicopter fired two flares as a warning to scare the yachts away.
Two minutes later, the Italian merchant ship sent a message to thank the Chinese naval ship.
It was the second time that the Chinese naval fleet rescued foreign merchant ships. On January 29, another missile destroyer "Wuhan" successfully rescued a Greek ship from pirates.