SHANGHAI -- Concerns over adulterated dairy products have driven up China's imports of baby food and milk powder through the port of Shanghai.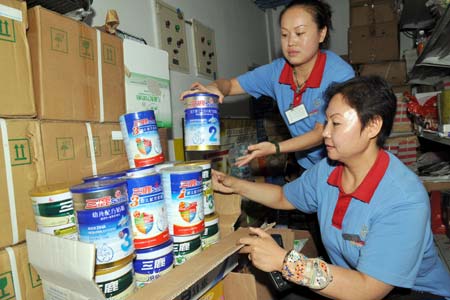 Saleswomen check the returned Sanlu brand milk powders in a supermarket in Yinchuan, capital of northwest China's Ningxia Hui Autonomous Region Sept. 17, 2008. [Xinhua]
Fang Yong, spokesman of the Shanghai Entry-Exit Inspection and Quarantine Bureau, said Wednesday that imports of baby food, including diary products, were up 32.5 percent by weight between September 15 and February 15, compared with the same period during 2007-2008.
Full Coverage:


Sanlu Milk Sickens Babies
Related readings:


 Watchdog finds no melamine in Dumex milk powder


 ROK finds melamine in Spain-made food additive


 Sanlu Group fined nearly 50m yuan over melamine scandal


 China plans production controls for melamine
The melamine scandal surfaced last September.
Shanghai port does not handle all of China's food imports, but it does handle one-fourth of China's trade.
The port also saw imports of whey powder leap 64.5 percent year-on-year by weight between January 1 and February 15. Whey is a protein powder made from cow's milk.
The rise in dairy-related imports contrasts with total food imports. For example, food imports via Shanghai port fell 27 percent year-on-year during the first six weeks of 2009.
China's leading diary producers are still feeling the fallout from the scandal, which involved adulteration of milk with melamine. The chemical, used to produce plastics and flooring, was added illegally to raise the apparent protein content of dairy products.
A nationwide investigation was organized after the scandal last year, when melamine-tainted milk powder sickened more than 294,000 infants and killed at least six. The infants developed kidney problems because of the melamine.
A court in Shijiazhuang, capital of Hebei Province, declared February 12 that Sanlu Group, the diary producer at the heart of the scandal, was bankrupt.
Sanlu chairwoman Tian Wenhua was given a life sentence last month, and the group was fined 49.37 million yuan (about $7.2 million) by the Shijiazhuang court for selling fake or substandard products.