SHANGHAI -- This city, with one of the strictest population controls in the country, is opening its gates wider to talent by approving hukou, or permanent residency, to experienced professionals from other provinces.
The policy, announced yesterday, marks the first time Shanghai has clearly spelled out the requirements to approve a permanent resident. Shanghai also becomes the first major city to loosen its control on the hukou system.
To qualify for permanent residency, applicants must have held a Shanghai residency certificate and have been in the city's social security system for at least seven years. Applicants must also be taxpayers, have obtained vocational qualification at medium or high levels, have never violated family planning policies, have clean credit and no criminal record.
The policy gives priority to those with a senior vocational qualification, those who work at schools and hospitals in the suburbs, pay high taxes or insurance rates or have significant investments here.
Shanghai has a population of 19 million people, six million of whom do not have a permanent residency.
Jack Zhang, a 28-year-old working at a local public relations firm, said requirements for vocational qualification will make it impossible for many professionals to obtain a permanent residency. "There is no such senior vocational certificate for public relations experts," he said.
"I think the policy is more for technicians."
Zhang Xiongwei, from Qidong of Jiangsu province, said it is not possible for most of the four million migrant workers to obtain a hukou even though some have been working here for more than 20 years. "But it at least sets up goals for us who want a permanent residency," he said.
"I know what Shanghai wants is not people but talents."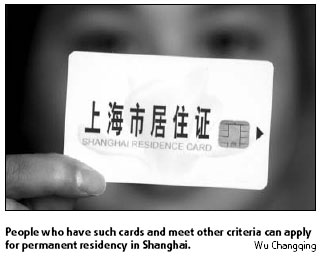 Zhang Ziliang, a researcher with Shanghai Institute of Public Administration and Human Resources, said he believes the regulations will help attract more talent.
He admitted that there are not many professionals in the city who meet the requirements.
"According to my estimate, there are only about 10,000 qualified to apply," he said.
Zhang, who participated in drafting the policy, said that as a city that lacks a lot of natural resources, Shanghai will still apply strict population control in near future.
The policy is also expected to change Shanghai's current population structure, in which one third of permanent residents are older than 60.
"People from other provinces are mostly under 39," Zhang said.
But he also appealed for more housing and tax policies to help professionals who receive permanent residency settle down.