A Japanese man admired actor Andy Lau so much that he asked doctors to make him look like the Hong Kong movie star.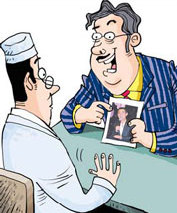 He was forced to abandon his wish after he was told he looked too different for surgery to help him look like Lau.
The 56-year-old businessman started to admire Lau after he saw his films many years ago. In April, he had visited a hospital in Xiamen, Fujian province, three times, pestering doctors to perform the operation.
Hospital workers finally managed to convince the man, who suffered from hypertension and diabetes, it was not suitable for him to undertake any plastic surgery.
(Xiamen Economic Daily)