BEIJING -- At least 331 families have been left homeless by a 5.2-magnitude earthquake that hit northwest China's Xinjiang Uygur Autonomous Region on Friday, the government announced Monday.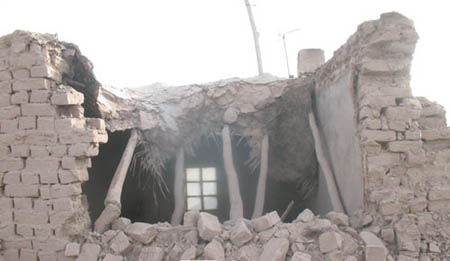 House in Kalpin county collapsed after a 5.2-magnitude earthquakehit northwest China's Xinjiang Uygur Autonomous Region on Friday, Feb. 20, 2009. [tianshannet.com]
The Ministry of Civil Affairs said the quake damaged the homes of another 5,613 households and caused total direct losses of 148 million yuan (US$21.76 million) in the remote region that takes up roughly a sixth of China's territory.
The epicenter of the quake, which hit the region at 6:02 p.m., was 40.7 degrees north and 78.7 degrees east, said the China Earthquake Administration.
The epicenter was 40 km from the county seat of Akqi and 50 km from the county seat of Kalpin. No casualties have been reported in either county.
Local authorities have reported 207 aftershocks in Kalpin County and the ministry said 3,665 residents in both counties had been relocated.
The autonomous region government has sent 400 sets of bedding to Kalpin county with 40 tents and three tonnes of food from its Aksu Prefecture.
Akqi County has collected 600 sets of coats, quilts and shoes for the those affected by the quake, according to the ministry.