SHANGHAI -- The widow of renowned Chinese film director Xie Jin is suing two controversial bloggers for saying her husband died while spending the night with a prostitute.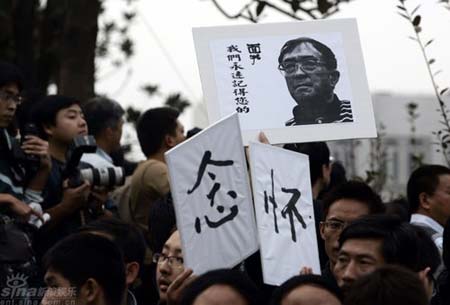 Film fans and local residents attend a mourning ceremony to pay homage to famous Chinese film director Xie Jin at the Longhua Funeral Home in Shanghai, East China, October 26, 2008. [sina.com]
Xie's wife, Xu Dawen, is demanding Song Zude and Liu Xinda delete articles on Xie's death from their blogs on major Chinese portal websites  including www.sina.com.cn and www.sohu.com, make a public apology, and pay a total of 500,000 yuan (US$73,166) for psychological injury.
The Jing'an District People's Court in Shanghai accepted the case Monday.
Song, the self-proclaimed "king of entertainment" who has often been criticized for spreading celebrity gossip, posted an article on October 19 last year saying Xie, 84, slept with a prostitute in a hotel in Shangyu City, east China's Zhejiang Province, the night he died.
Song said on his blog that his friend Liu Xinda, who claimed to have stayed in a room next to Xie's, called him at 2 a.m. on October 18 last year saying he heard suspicious noises that sounded like Xie and a woman.
On October 28, Liu wrote in his blog that Xie died after "whoring" and he was willing to appear in court to give evidence.
Xie had gone to Shangyu to attend the 100th anniversary of the founding of his alma mater, Chunhui Middle School.
The remarks of Song and Liu sparked nationwide controversy as Xie Jin is a household name in China. His film, The Herdsman, released in 1982, was seen in cinemas by a record 150 million people. Three of Xie's films won the Golden Rooster, a top award in the Chinese film industry.
Xu Dawen's lawyer, Gao Minrong, told Xinhua that the hotel had confirmed Liu Xinda was not staying there at the same time as Xie.
He also said the death certificate provided by a hospital showed Xie died of a heart attack at 1 a.m. on October 18, while Liu allegedly heard the noise at 2 a.m..
Xu said Song and Liu were trying to attract readers of their blogs by defaming Xie, and she launched the suit to defend her husband's reputation.
During a telephone interview with Xinhua, Liu declined to say whether or not he had stayed at the hotel on October 18 last year.
Meanwhile, Song said he was "glad" to defend his legitimate rights and vowed to appear in court.