SHANGHAI -- Chinese shares rose Monday, led by insurers and other financials, amid rising hopes for more government stimulus for the economy and US support for troubled banking giant Citigroup.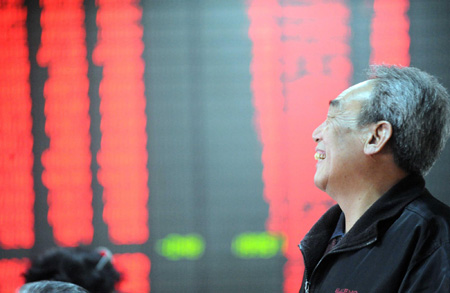 An investor reacts as he looks at a giant screen displaying market information at a stock brokerage in Shanghai, February 23, 2009. [Xinhua]
The benchmark Shanghai Composite Index gained 44.30 points, or 2 percent, to 2,305.78. The Shenzhen Composite Index for China's smaller, second exchange jumped 3.1 percent to 767.44.
Positive figures for February bank lending and an announcement by the China Insurance Regulatory Commission that smaller or medium insurance companies may be allowed to invest directly in shares eased investors' concerns about liquidity, analysts said.
"Investors are still feeling positive about the market trend these days. They're encouraged by abundant cash liquidity and believe they can make money," said Zhang Linchang, an analyst for Guotai Junan Securities, in Shanghai.
Chinese insurers rallied Monday, with Ping An Insurance Co. up 3.4 percent to 34.15 yuan, and China Life Insurance Ltd. gaining 1.6 percent to 22.35 yuan. China Pacific Insurance added 3.4 percent to 15.36 yuan.
Real estate shares advanced on expectations for further government measures to boost the property market. China Vanke Ltd., the country's biggest developer, jumped 4.7 percent to 8.10 yuan, and rival Poly Real Estate Group surged 6 percent to 20.01 yuan. Shanghai Lujiazui Finance & Trade Zone Development climbed 4 percent to 21.67 yuan.
Markets across the region were buoyed Monday by a Wall Street Journal report late Sunday that the US government might increase its stake in Citigroup to as much as 40 percent. Such a move eased worries over bad assets that sent markets sharply lower last week.
Chinese banks rose, with Industrial and Commercial Bank of China, China's No.1 lender, edging 0.5 percent higher to 3.85 yuan. China Merchants Bank gained 2.5 percent to 14.76 yuan and Bank of Communications rose 1.42 percent to 5.70 yuan.
The Shanghai benchmark's biggest share, PetroChina Ltd., gained 0.4 percent to 11.43 yuan, while refiner China Petroleum & Chemical Corp., or Sinopec, rose 0.7 percent to 8.70 yuan.
In currency dealings, China's yuan was trading at 6.8360 to the US dollar, up from Friday's close of 6.8372.