GUJIAO, Shanxi: At least 74 miners were killed and an unknown number trapped underground - and feared dead - after a gas explosion rocked a major colliery in Shanxi province early Sunday morning.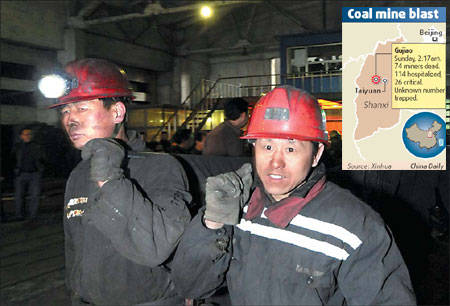 Rescuers carry a miner out of a coal shaft hit by a gas explosion in Gujiao, Shanxi province, yesterday. [China Daily]
The blast occurred at 2:17 am while 436 employees of Tunlan Coal Mine were at work underground in Gujiao, 60 km west of Taiyuan, capital of the coal-rich province.
Of the 114 miners hospitalized, 26 were in critical condition as of last night, officials said.
More than 300 are believed to have escaped from the pit within the first hour of the blast, including many who were hospitalized, an employee who records worker flow told China Daily.
He said the first batch of rescuers reached the site at around 3:20 am.
A total of 57 rescuers, some from other places including Taiyuan, were involved in the rescue operation, a local police officer said.
But Gujiao residents said the number was not enough.
"The rescue team here with the mine is severely understaffed as the headquarters is based in Taiyuan," Kang Changqing, a former Tunlan miner who lives nearby, told China Daily.
Though his village, Liangzhuang, is 3.5 km away, Kang, 46, said people there were the first to know about the blast and call police.
"Two intake passages of the pit - which link to the outside and provide fresh air to the mines - were built by the road just outside my home," he said, noting that most villagers were woken up by "two tremendous explosions" at 2:18 am.
As the explosions took place more than 400 m underground, mine watchers were not the first to find out about the accident, according to other villagers.
"The parts of the intakes above ground were totally destroyed. Luckily for us, the explosions happened at night when no one was around," Kang said.
After rescue work was suspended for the day at 6 pm yesterday, the rescue headquarters confirmed that the death toll stood at 74, without announcing the number of miners still trapped - or whether anyone was trapped at all.
President Hu Jintao and Premier Wen Jiabao issued instructions for everything possible to be done to save those still trapped inside the mine, CCTV reported.
Three days before the blast, Wang Jun, governor of Shanxi, when reviewing work safety procedures in Taiyuan, warned the province - which often witnesses coal mine disasters - "had run out of tears to shed".
After climbing out of the deadly pit, some rescuers wasted no time calling home on their cellphones.
"If I don't call them immediately, they would start worrying about my safety and mental health," a rescuer surnamed Zhao told China Daily. "My family might have thought I had gone crazy after going through all this every time," he said.
Zhao, part of the provincial mine rescue team, began work immediately after reaching the pit in the morning and did not came out till 5:30 pm.
The Tunlan mine, which has an annual capacity of 5 million tons, is operated by the Shanxi Jiaomei Group.
Yesterday's death toll makes it the most lethal accident reported in the mining industry after 276 people died in the collapse of an unlicensed iron ore reservoir last September, also in Shanxi.