BEIJING  -- China on Thursday again lodged urgent representations to the Russian Minister Counsellor to China in regards to the sinking of a Chinese cargo ship in Russian waters.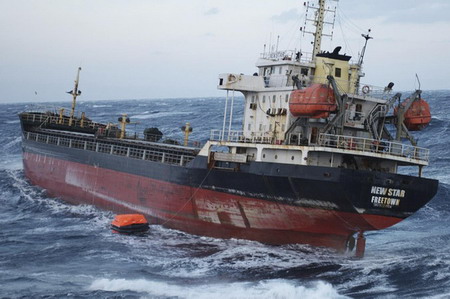 The cargo ship "New Star" is seen near the Russian far eastern port of Nakhodka in this February 14, 2009 picture taken by Russia's border patrol. [Agencies]
The Sierra Leone-flagged vessel named "New Star" sank off the waters near Russia's far-eastern port of Vladivostok on Sunday. Seven Chinese crew members were still missing.
Related readings:


 Investigate sinking of ship, Russia exhorted


 China calls on Russia to investigate ship incident


 FM: 7 missing in cargo ship 'accident' off Russia

 Ship sinks in Russia, 7 missing
China paid great attention to media reports that the ship sank after a Russian Coast Guard cruiser fired at it, said Foreign Ministry spokeswoman Jiang Yu in a news release.
Jiang said China had urged the Russian side to spare no efforts to help search for the missing crew members and make thorough investigations to find out the causes of the incident as soon as possible.
The Chinese embassy in Russia and consulate general in Khabarovsk also made representations to Russia at the same time, Jiang noted.
"Russia attached great importance to China's concern," said Jiang, adding that relevant Russian department is investigating the conduct of law enforcement agencies involved in the incident and will inform China of the results in time.