HAIKOU -- China can rely on and will promote the use of its own technologies in developing nuclear power projects, a senior energy official said Wednesday.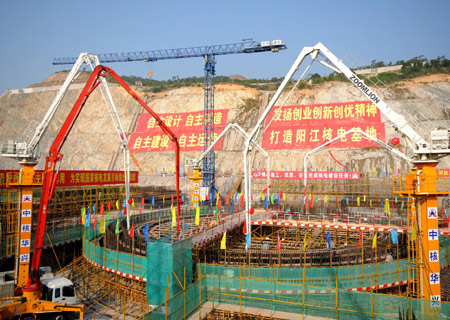 Photo taken on December 16, 2008 shows an overall view of the construction site of Yangjiang nuclear power plant in Dongping Town, Yangjiang City, south China's Guangdong Province. [Xinhua]
The proportion of domestic technologies and equipment used in the country's nuclear power projects should be required to reach a certain level, said Zhang Guobao, head of the National Energy Administration (NEA), at an NEA work conference here Wednesday.
Related readings:


 Sino-US nuclear safety cooperation forum kicks off


 Nuclear cooperation prospects unclear


 Nuclear power to get a big boost


 Construction starts on nuclear power plant in S China
He gave no details on what level would be appropriate, saying the use of independent technologies should be a "significant factor" to be considered in the planning, appraisal and approval of nuclear power projects.
China has 11 nuclear power reactors in operation, all using second generation technologies comprising mainly pressurized water reactors, but also including boiling and heavy water reactors. Three of these use domestic technologies, four use French designs, two use Canadian designs and the other two Russian.
The country has another 22 nuclear reactors under construction and 20 of them apply CPR-1000, the China-developed second-generation technology.
"China has made major breakthroughs in the research and development of some key nuclear power equipment," said Zhang. "The country can fully rely on its own technologies to support nuclear power development in the next two to three decades."
The third-generation technology, which uses light water reactors, is the latest and is considered safer and more efficient than previous designs.
Four nuclear power reactors in China, whose construction is scheduled to begin in 2009 and 2010, will use the third-generation technology designed by the US firm Westinghouse.
China has highlighted technological innovation as a way of improving its industrial competitiveness and boosting the economy in the face of the global financial crisis.
The State Council, or the Cabinet, unveiled a support plan for machinery manufacturing industries early this month, encouraging the use of self-developed key technologies and equipment in major projects.
Zhang told the meeting that developing nuclear power is crucial to adjusting China's energy structure, saying advancing the development and use of independent technologies will significantly serve that purpose.
About 70 percent of China's electricity comes from thermal power stations. Coal burning has become a major source of carbon dioxide emissions.
The government has set a target for installed nuclear power capacity of 40 million kilowatts by 2020, which will need an estimated investment of 450 billion yuan (US$66.2 billion).
The capacity totals 9.1 million kilowatts at present, or 1.1 percent of the country's total installed electricity generation capacity.
"We'll further adjust our plan to develop nuclear power and strive for a quite big increase in the share of nuclear power generation," said Zhang, without giving details. Last year, he told Xinhua that the installed nuclear power capacity could reach 60 million kilowatts by 2020.
Meanwhile, industry insiders say the absence of a standard system for domestic nuclear power equipment and a lack of funds is hampering China's bid to support home-developed technologies.
"The lack of a technical standard system will hinder the promotion of domestic nuclear power equipment and raw materials," said Zheng Dongshan, vice president of the China Guangdong Nuclear Power Group.
Zhang said the government aimed to establish a standard system for nuclear power technologies and equipment within five years.