Dar es Salaam -- China will take effective measures to cope with global economic downturn while enhancing cooperation with African countries to weather through the crisis.
President Hu Jintao reiterated China's determination on Monday to an audience of more than 1,200 college students, professionals and people from industry, business and other sectors at the welcoming rally in Tanzania's capital.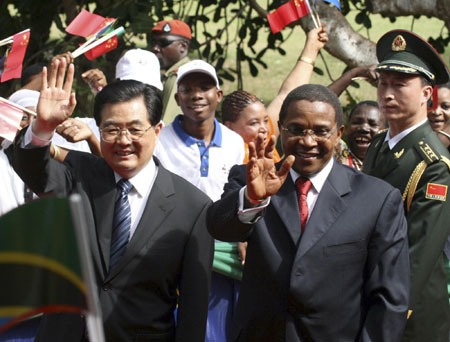 China's President Hu Jintao (L) and his Tanzanian counterpart Jakaya Kikwete wave to a crowd upon their arrival at the State House in Dar es Salaam February 15, 2009. [Agencies] 
"During times of adversity, it is all the more important for China and Africa to support each other, work in concert and tide over the difficulties together," Hu said in his keynote speech entitled "Work Together to Write a New Chapter of China-Africa Friendship."
Full Coverage:


Hu Visits Five Nations
Related readings:

Tanzania asked to co-fight downturn


Hu starts state visit to Tanzania


Hu: Visit produces new consensus
During his speech, Hu acknowledged that China has encountered many difficulties in its economic development.
But he said that his country's primary task is still "to maintain steady and relatively fast economic growth".
The array of policy measures China has rolled out to boost domestic demand and promote economic growth "will not only lend a strong impetus to China's economic development but also stimulate world economic growth," he said.
Hu reiterated the pledge he has made since he arrived in Mali last Thursday that China will continue to increase assistance to Africa and cut debts owed by African countries as the country's ability permits.
"We will continue to be actively involved in UN peacekeeping operations in Africa and play a constructive role in addressing conflicts and hot-spot issues and maintaining peace and security in Africa," he said.
He also repeated China's support for its own companies in Africa "to shoulder more social responsibilities and forge amicable relations with the local communities.
"As for problems that may arise from our cooperation, we want to properly resolve them through consultations with our African friends on an equal footing so as to maintain the larger interests of our friendly cooperation," he said.
Hu said China want to forge closer links among young people, women, non-governmental groups, media organizations and academic institutions between China and African countries.
He extended his support for African Union's participation in the G20 financial summit.
China "wishes to take part in the formulation of international economic, financial and trade rules and build a more equitable and reasonable international economic order together with African countries," he said.
Hu, who served for years as the top youth leader in China, extended his invitation to 50 students from Tanzania to visit China this year.
Following are the six key areas that President Hu Jintao proposed for China and Africa to work together to cope with the economic difficulties.
-- Strengthen solidarity and mutual assistance to jointly meet the challenge of the international financial crisis;
-- Enhance mutual trust and cement the political foundation for traditional friendship;
-- Raise the level of practical economic cooperation and trade on the basis of reciprocity and mutual benefit;
-- Expand people-to-people exchanges and deepen cultural cooperation;
-- Work closely together and strengthen coordination in international affairs;
-- Enhance coordination and jointly promote the further development of the Forum on China-Africa Cooperation.