SHANGHAI -- Twenty people involved in a 1-billion US-dollar online soccer gambling case were fined and sentenced to prison terms ranging from one to six years by a Shanghai court on Sunday.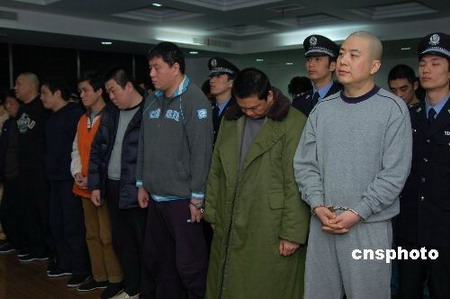 Suspects hear verdicts on one-billion-dollar online gambling case at a local court in Shanghai, Feburary 15, 2009. [cnsphoto]
The Shanghai Putuo District People's Court sentenced Qian Baochun, 41, the prime accused, to six years imprisonment and ordered him to pay a fine of five million yuan (US$735,000) for establishing gambling websites.
The other 19 convicted, including Zou Jun and Liu Biqing, the other two gang leaders, were sentenced to jail terms from one to five years with a fine ranging from 20,000 yuan to 1.01 million yuan, the court ruled.
"This is possibly the country's biggest online gambling case," said Zhang Minxian, spokesman for the court.
The gang started its business in the summer of 2006, when the soccer World Cup was held in Germany.
The trio of Qian, Zou and Liu opened accounts on several overseas gambling websites and began to develop a network of agents and gamblers.
They hired people to help with the operation and received a monthly pay from commission of the overseas websites' profits.
The betting stakes amounted to 6.6 billion yuan, and the trio earned 1.6 million yuan from wagers between the latter half of the year 2006 and July 2007, the court said.
All the 20 pleaded guilty in January.