CAIRO -- Li Jinglin is one unique Chinese businessman. This owner of a textile company in Egypt has become one of the few Chinese businessmen to sniff out opportunities in the African nation, mainly to beat fierce competition from back home.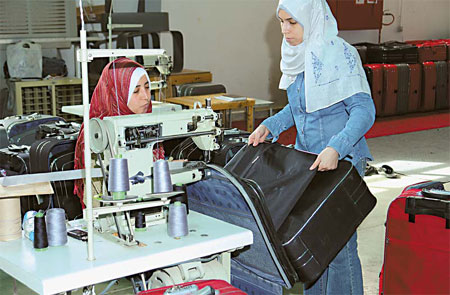 Two Egyptian women work at a Chinese company producing suitcases located in the Suez Economic Zone. More investors are attracted to the African country due to lower costs and easier access to other markets. [file photo]
Even as domestic enterprises start to feel the pinch from deepening credit woes caused by the global downturn, Li has been busy dealing with rising orders from the US and European markets.
Li's former colleagues in China have started to close factories. Some of them are experiencing sluggish business growth. Yet, Li is sitting pretty. "Orders from the US have increased by 60 percent year-on-year since November," Li said. "Our hands are full."
Low costs have been his main reason for cheer, said Li, the general manager of Nile Textile Group, a garments manufacturer based in Port Said, some three hours drive from Cairo. Inexpensive raw material and inputs, low labor costs and favorable government policies have reduced the cost of making clothes, much lower than even China, long known for producing cheap goods.
Before coming to Egypt, this 55-year-old used to work for a State-owned trading firm in Jiangsu province, a major manufacturing and export base in China.
Then, in 1999, Chinese textile companies encountered tough times due to the import quota system followed by the EU and US. The policy spelt out that textile makers from China could export only limited quantities of textile products to these two markets. However, the Chinese textile industry had become hugely competitive by then. Thousands of textile companies were competing for a share of the pie arising from the limited quota. This was narrowing their profit margins.
That was when Li decided to head to Egypt. There were no restrictions on exports there, he had heard. He took 29 of his colleagues with him and set up the first ever textiles company to be funded by a Chinese, in Egypt.
"It was a tough start," Li recalled. They did not understand the local language, and it took them eight days to build their first tent and settle down.
Gradually, things started to improve. Li realized labor costs in Egypt were much lower than in China. A textile worker in southern China is paid around 1,500 yuan a month. In contrast, the monthly salary of a worker in Egypt was equivalent to only around 650 yuan. Li soon started to hire people locally. Now, there are around 600 Egyptians working in his factory.
The Chinese government had restricted energy consuming industries over the years and lowered the export tax rebate on textile products several times in 2007. On the other hand, Egypt was encouraging the textile industry in a bid to improve local employment levels.
The cost of raw material and inputs were lower as well. For instance, the water and electricity costs in Egypt were among the lowest in the world. In the free trade zone where Li's company is located, the electricity charges were around $0.03 per kilowatt, and that of water, $0.15 per cu m. "The cost of a steam boiler in Egypt is around 100 yuan a day, but will cost at least 3,000 yuan a day in China," said Li.
In addition, Egypt had signed free trade agreements with Europe, the US and some Arab nations. That meant zero tariffs for exports to these countries, said Ahmed Amin, vice-chairman of General Authority for Investment and Free Zones of Egypt.
"Sometimes, products made in China cannot gain access to foreign markets due to market barriers, but if you make the products in Egypt, there would be no such problem," Amin pointed out. For example, Chinese products exported to the US attract duties of around 30 percent. In Egypt, there is no such levy. "The cost is much lower. That will make these textile enterprises even more competitive," he said.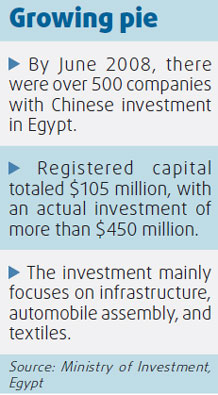 The Egyptian government had also increased the export tax rebate for textile products to 12 percent in December from 8 percent earlier. "We hope this policy will encourage Chinese textile companies to move their factories to Egypt," Amin said.
All of these measures spell good news for people like Li. He is now thinking of expanding his business. Earlier, his company used to sell only low-end products or did manufacturing work for other established brands. But now he has started to make high-end suits for women under his own brand name. These would be sold at department stores in the US.
"If we participate in design and branding, we will make more profit than by simply producing goods for other brands," said Li. He has also purchased new machinery and hired designers to spruce up his product line.
He has even set his eyes on the domestic Chinese market. He plans to set up stores and a distribution network for women's lingerie in the country some time this year.
All that may be well, but the key to successfully doing business in Egypt is to start by respecting the local culture, Li said. Although his Arabic is patchy at best, Li has encouraged Chinese workers at his unit to study the language and be friends with local colleagues. He has made sure he respects the local religion. Though not a religious person himself, Li set up prayer rooms for his Muslim staff within the factory premises.
Once, Li recalled, he had put up a picture of the Buddha on his factory wall (as many Chinese businessmen do back home). It disappeared the next day. He hung a second one the day after. That too was gone soon after. Li finally realized it could be due to the fact that his Muslim colleagues considered only Allah as their sole deity. Thereafter, he chose a picture that had natural scenery. It has stayed there ever since. "You need to be really in tune with the local culture," Li said. Well, that approach sure seems to be helping Chinese businessmen in Egypt.