A Chinese woman was seen chatting with the wives of diplomats at US President Barack Obama's inauguration. Nothing unusual in that, except that Yang Ying is the wife of Iraq's ambassador to the US, Samir Sumaida'ie.
The 46-year-old from Qinghai province has been a fixture in Washington since her husband was appointed in April 2006. The ambassador has described his wife as "an asset to my country and me Yang has proven to be a star in diplomatic circles".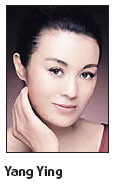 Yang said over the phone from the US that her duties included attending social events and networking. "As the wife of an ambassador I always try to project a confident and natural image," she said.
Despite representing Iraq, she is obviously proud of her roots, and often wears a cheongsam introducing herself as a Chinese national.
The eldest of five siblings, Yang moved to Beijing when she was 22. She worked her way up the corporate ladder to become the CEO of Vicky May Cosmetics Company.
"It was just fate that we came together," she said. In 1998, she was leasing part of her house at Zhongguancun in Beijing. Sumaida'ie, then a businessman staying at the Friendship Hotel, was looking for a place to rent.
Though Yang was not feeling well on the day he was supposed to check out the house, she decided to keep the appointment, she said.
And they clicked straight away.
"We have many things in common," Yang said. "Samir is keen on arts so am I. And we know exactly what the other is thinking or feeling about."
Born in 1944, Sumaida'ie spent most of his life in the UK after the age of 16. He came to China in 1991.
The couple have stuck together through thick and thin. They returned to China in 2003, even though SARS had broken out in the country then. Later that year, they visited Iraq despite the US having launched a war, and traveled about 10 hours through the desert by car.