BEIJING -- US Secretary of State Hillary Clinton will visit China from February 20 to 22, Chinese Foreign Ministry spokeswoman Jiang Yu announced here Tuesday.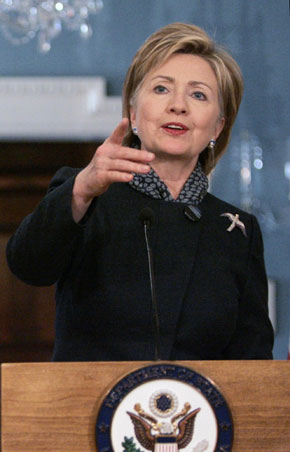 US Secretary of State Hillary Clinton gestures during a news conference with French Foreign Affairs Minister Bernard Kouchner at the State Department in Washington, February 5, 2009. [Agencies] 
Invited by Foreign Minister Yang Jiechi, Clinton will discuss Sino-US relations as well as issues of common concern with Chinese leaders during her first China visit since taking office.
"We hope to have broad and in-depth discussions with the US side on Sino-US relations, the financial crisis and other international and regional issues of common concern, so as to strengthen our dialogues, enhance the mutual trust, expand cooperation, and push forward the development of the relationship," Jiang said.
China is part of Clinton's Asian trip, which will include Japan, the Republic of Korea and Indonesia from February 15 to 22. According to the US State Department, Clinton will talk with leaders of the four countries on coping with the common challenges the international community is facing.