BEIJING -- A 99-year-old Chinese man has gone on trial in Beijing accused of swindling some 750,000 yuan ($109,700) from an American, the oldest criminal defendant ever in the city, local media said on Wednesday.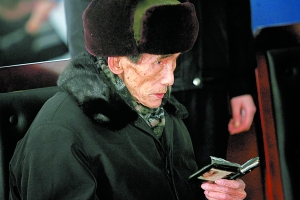 Zhou Zhiping reads aloud his date of birth on his identity card at a court Tuesday, Feb. 3, 2009. [Beijing Times/Liu Yan]
Zhou Zhiping, born in 1910, claimed to be a former provincial governor before 1949, the Beijing News said.
Zhou said he had close connections with government leaders and could help with the unfreezing of assets of the former Nationalists held in the United States, the report said, without elaborating.
Due to his age, Zhou was released on bail. The prosecutor also did his questioning at Zhou's house rather than the court, the newspaper added.
The elderly defendant, who has poor hearing, denied all the accusations in court. He could be jailed for at least 10 years or even for life if found guilty, the report said.
($1=6.839 Yuan)