Severe drought in northern China has affected about 9.67 million hectares of crops, 2.7 million hectares more than the same period last winter, according to the Office of State Flood Control and Drought Relief Headquarters.
Drought conditions have left 3.7 million people and 1.85 million livestock with no access to drinking water, according to sources in the office.
The agency has sent four relief teams to eight of the worst-hit crop-producing provinces, including Hebei, Shaanxi, Anhui and Jiangsu, to instruct farmers and local administrators on relief work.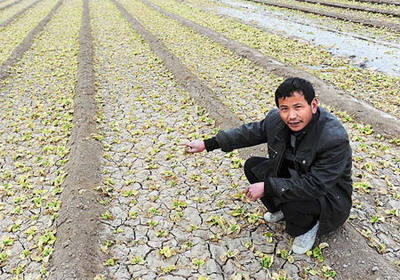 A farmer points at his parched crops in Bozhou, Anhui province, yesterday. The region has been hit by its worst drought in 50 years. [China Daily]
E Jingping, secretary-general of the office, said Sunday at a working conference that local relief teams should fully assess the situation and work out solutions tailored for the specific conditions in their areas.
"The water resources allocation should be integrated to ensure equitable distribution," he was quoted as saying by Xinhua News Agency.
"Efforts should be made to ensure that all residents had enough drinking water and all efforts were to be made to expand the irrigation area," E added.
The Ministry of Finance has allocated 100 million yuan ($14.6 million) of emergency funding to help farmers fight the drought.
E Jingping also said that about 1.38 billion yuan had been used to fund relief work since the end of December. Some five million hectares of farmland has been irrigated, and drinking water shortages were eased for about 500,000 people and 280,000 livestock.
Local finance and water resource departments have allocated 509 million yuan for drought-relief efforts since December, and nearly 3.3 million hectares of wheat cropland have got sufficient water for irrigation by Sunday.
Fourteen supervision groups arrived at the drought-hit areas over the weekend as part of the relief campaign.
Henan Daily reported yesterday that the drought, which began in November, is the most severe since 1951.
Without rainfall for 105 days, more than 2.8 million hectares of wheat cropland, or 63 percent of the total wheat crop, is threatened.
Weather forecasts predict that rainfall will remain low this month.
Severe drought is also affecting 1.7 million hectares of farmland in Shandong province.