LONDON -- China gives top priority to meeting the challenge of climate change, Chinese Premier Wen Jiabao told the Financial Times on Sunday.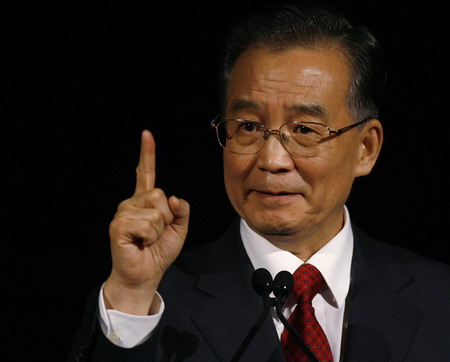 China's Premier Wen Jiabao addresses a dinner held by the China Britain Business Council at the Natural History Museum in London February 1, 2009. China gives top priority to meeting the challenge of climate change, Wen Jiabao told the Financial Times on Sunday. [Agencies]
Wen said the Chinese government supports all measures that are playing roles in meeting the challenges of climate change and the development of a green economy.
Related readings:


 Wen warns against protectionism amid financial crisis


 Premier Wen's tour in Britain on Day 2


 Wen urges China, Germany to expand trade and investment


 CNN blackout on Wen's Econmic Talk
"We are of the view that to develop a green economy is probably another area in the economy as we meet the international financial crisis," Wen said.
The Chinese premier said China has established a national leadership group to tackle climate change and "I'm head of the group."
China has formulated a national program on coping with climate change, and not only is it the first program of its kind for China, it is also the first of its kind among all developing countries, Wen said.
In the 11th five-year plan, China has set targets to annually reduce the per unit GDP energy consumption by 4 percent and in total by 20 percent in five years.
"We will continue to make efforts on this front and set targets for ourselves," Wen said. "I think this can be seen as a way that China is holding itself accountable to the relevant targets."
When asked whether China is ready to sign a treaty at the upcoming Copenhagen conference to cap carbon emissions, the premier said he had a thorough discussion on the issue with European Commission President Jose Manuel Barroso in Brussels the day before yesterday.
It's difficult for China to take quantified emission reduction quotas at the summit, because the country is still at an early stage of development, Wen said, Europe started its industrialization several hundred years ago, but for China, it has only been dozens of years.
"China has a 1.3 billion population, and in terms of per capita greenhouse gas emission, we are certainly not the biggest one, yet we are still very active and positive about our cooperation with Europe in terms of saving energy, reducing pollution, developing a low carbon economy and developing those environmentally friendly technologies," Wen said.