BEIJING -- About 20 million of China's migrant workers have returned home after losing their jobs as the global financial crisis takes a toll on the economy, said a senior official here on Monday.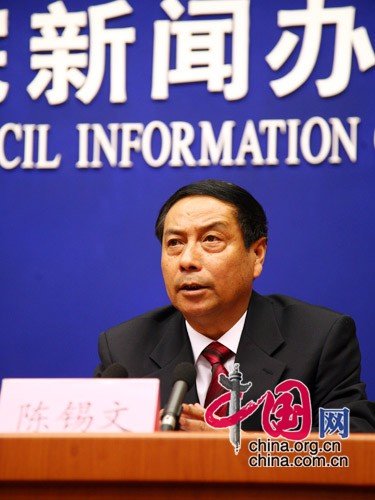 Chen Xiwen, director of the office of the central leading group on rural work, speaks at a news conference in Beijing Monday, Feb. 2, 2009. [china.org.cn]
Chen Xiwen, director of the office of the central leading group on rural work, said about 15.3 percent of the 130 million migrant workers had returned jobless from cities to the countryside.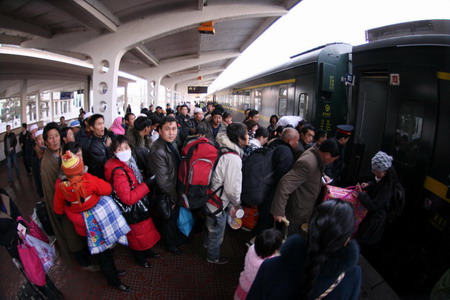 Travellers queue up to board a train heading for Tibet at Xining Railway Station in Xining, northwest China's Qinghai province January 4, 2009. An early travel rush with travellers mainly migrant workers and college students return home for Spring Festival holiday. [Xinhua]
The figures were based on a survey by the Ministry of Agriculture in 150 villages in 15 provinces, carried out before the week-long Lunar New Year holiday which began on January 25.
His remarks came a day after the central government issued its first document this year, which warned 2009 will be "possibly the toughest year" since the turn of the century in terms of securing economic development and consolidating the "sound development momentum" in agriculture and rural areas.
The country's economic growth slowed to 6.8 percent in the fourth quarter of 2008, dragging down the annual rate to a seven-year low of 9 percent.
The document urged local and central government departments to adopt measures to create jobs and increase rural incomes.
Companies were asked to take on more social responsibilities and give rural migrant workers more favorable employment treatment. Flexible employment policies and more training chances were also encouraged.
Related readings:


 Job fairs to hold for migrant workers in Anhui Province


 Help migrant workers find jobs


 Migrant workers bear brunt of crisis


 Migrant workers cash in security funds
Meanwhile, local government departments should increase investment to provide favorable tax and fee policies to those who lost jobs in cities and expect to find new work in their hometowns.
The government also urged departments to map out basic pension insurance measures suitable for rural conditions and migrant workers to ensure their rights.