BEIJING -- The Chinese government vowed to beef up vocational training for migrant workers, college graduates and laid-off workers, who were badly hit by the global financial crisis, to help them land jobs, according to a joint circular issued by three ministries.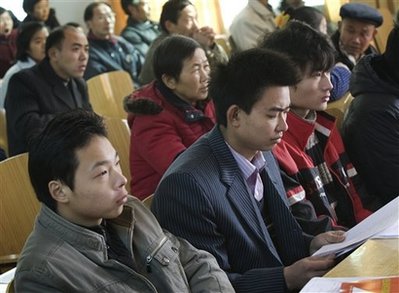 Workers attend a training course on rabbit farming, organized by the Chinese government, which helps people find a new career in their own area, held at a school in Erxinqiao Village, Sichuan Province, China, Tuesday, Jan. 13, 2009. [Agencies] 
Local government should offer the migrant workers necessary training to help them find jobs in the railway and infrastructure construction, power sector and rebuilding of the quake-hit areas, according to the joint circular issued by the National Development and Reform Commission, the Ministry of Finance and the Ministry of Human Resources and Social Security.
Related readings:


 Gov't to report on jobless claims as layoffs rise


 New aid measures set for jobless workers


 Jobless rate creeps steadily upward


 Jobless migrants find govt help
Vocational schools and technical training institutions should enhance training for people who were affected by the crisis, and work out programs to help them find new jobs, said the Ministry of Human Resources and Social Security on Sunday.
China's urban unemployment rate was 4.2 percent at the end of 2008, up 0.2 percentage points year on year, according to official figures.