ZURICH -- Chinese Premier Wen Jiabao arrived in Zurich Tuesday for an official visit to Switzerland, during which he will also attend the annual meeting of the World Economic Forum (WEF).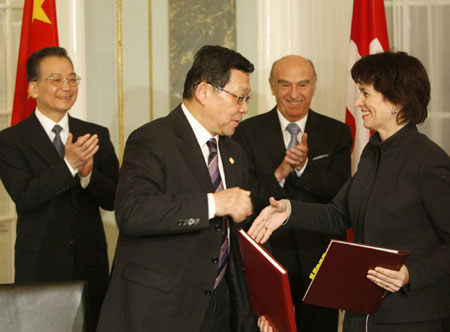 Swiss President Hans-Rudolf Merz (rear R) and Chinese Premier Wen Jiabao (rear L) applaud as Chinese Trade Minister Chen Deming (front L) and Swiss Economic Minister Doris Leuthard shake hands after signing an investment agreement during an official working visit in Bern January 27, 2009. [Agencies]
Upon his arrival at Zurich airport, Wen said in a written statement that he would like to use this opportunity to express the Chinese New Year greetings and best wishes to the Swiss people.
"Since the establishment of diplomatic relations 59 years ago, bilateral relations have run smoothly. In recent years, leaders of the two countries have kept frequent contacts, economic and trade cooperation has been continuously expanded, and cultural and civil exchanges have been increased," he said.
Switzerland has become the 11th largest trading partner for China in Europe and the sixth largest source of investment from Europe for China, officials from China's Commerce Ministry said.
Last year, Swiss investment in China totaled 240 million U.S. dollars, and two-way trade amounted to 11.2 billion dollars, with Chinese export to Switzerland valued at 3.9 billion dollars and import from Switzerland at 7.3 billion dollars, according to the officials.
"When we recall the past and look forward to the future, we have full confidence regarding the prospect of the Chinese-Swiss relations," the Chinese premier said.
Wen said that during his visit he expected to exchange views with Swiss leaders on further development of bilateral relations as well international issues of common concern so as to deepen the friendly cooperation between the two countries.
It is Premier Wen's first visit to Switzerland since he assumed the post. He is scheduled to hold talks with President of the Swiss Confederation Hans-Rudolf Merz and WEF Chairman Klaus Schwab.
At the annual WEF meeting in Davos, Wen will give a speech to elaborate on the measures China has taken to deal with the financial crisis.
Switzerland is the first leg of Wen's European tour, which will later take him to Germany, the European Union headquarters, Spain and Britain.