BEIJING -- Cheng Bingchuan's nightmare began on January 15 when he lined up at a booking office to buy a train ticket home. He arrived at the office near his apartment in the southern part of Beijing an hour and half before it opened.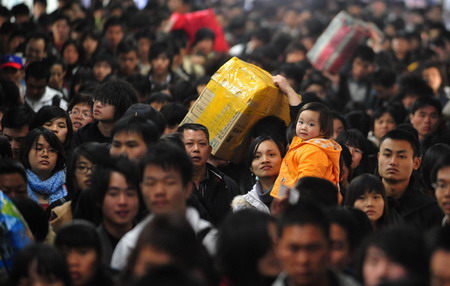 Passengers stream into the railway station in Guangzhou, South China's Guangdong province Monday, January 12, 2009. China's transportation system is already burdened by students and migrant workers returning home for the traditional Spring Festival holiday. [Xinhua]
He was third in line. He asked the two people in front of him where they were headed. To his relief, they were not taking the same train as him. "I was pretty confident of getting a ticket."
Related coverage:


Spring Festival 2009
Related readings:


 Grim weather to hamper Spring Festival travel rush


 Reward offered for tip-off on scalpers


 Inspection teams target scalpers and ticket selling


 Rush to travel back home begins in earnest
But Cheng was stunned when the office opened at 9 a.m. and he was told that all high-speed train tickets to Zibo in east China's Shandong Province, his destination, for January 24 were sold out.
"It was just a few minutes after the tickets became available. How could they all be gone in the blink of an eye?", Cheng wonders.
Normally, tickets become available four days before departure for regular trains and 10 days for high-speed trains. During the Spring Festival peak, train tickets fall short of the high demand of those returning home for the most important family holiday in China.
"How could tickets have been sold out that soon?" Cheng asks. "It was just a few minutes after the tickets became available, how could they all be gone in a blink of the eye?"
In the run-up to every Spring Festival, buying train tickets becomes extremely difficult. Travelers wait for hours, even days, in freezing temperatures to buy tickets. Once aboard the overcrowded carriages, they may have to sit in aisles. Others are forced to stand for a day or longer.
This year, the Lunar New Year falls on January 26. The Ministry of Railways estimates that around 188 million passengers will travel this  year by train during the 40-day peak period. The number of travellers will be an 8 percent higher than that of 2008, when 13, 73 millions used the train to go back home.  The Ministry is also expecting daily rail traffic to grow by 340,000 people to a record average high of 4.7 million.
Homebound college students, migrant workers whose jobs have gone in the global economic crisis and those visiting family converged this year to inundate the insufficient railway system, said Wang Yongping, Railway Ministry spokesman.
China's rail system has failed to keep pace with the nation's high economic growth, even as it introduces sleek high-speed bullet trains and plans new lines along heavily traveled urban corridors.
The Rail Ministry reinforces that idea with a well-known statistic: the per-capita railway mileage is only 6 cm - shorter than a cigarette. China's railways can only cater for 3 million travelers and many lines must serve both passenger and freight transport.
The ministry says the average number of passengers in the first 10 days of the festival rush reached 4.78 million, 714,000 more than last year.
Although the ministry has added 6,274 temporary trains and has replaced sleepers in those trains with seats to accommodate more passengers, tickets still fall short of demand.