BEIJING -- Starbucks Corp. launched a new brand of coffee grown by farmers in China and said it hopes to bring the blend to stores all over the world.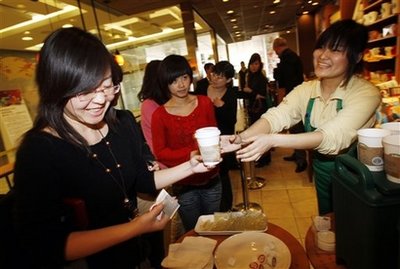 A Starbucks staff member hands out free coffee to customers at an event to mark the 10th anniversary of Starbucks' launch in China, at the company's original outlet in Beijing Wednesday, Jan. 14, 2009. The Coffee chain Starbucks has started producing coffee grown by farmers in China and hopes to bring the blend to stores all over the world. [Agencies]
The Seattle-based company, which has been closing stores in the US to cut costs, said its new blend is made in China's southwestern province of Yunnan, bordering Vietnam, Laos and Myanmar.
"Our intention is to work with the officials and the farmers in Yunnan province to bring Chinese coffee not (only) to China, but Chinese coffee to the world," Martin Coles, president of Starbucks Coffee International said.
"Ultimately I'd love to see our coffees from China feature on the shelves of every one of our stores in 49 countries around the world," he said. A launch date for foreign distribution hasn't been announced and will depend on how soon farmers can grow enough beans to ensure local and overseas supply, he said.
The company has been working for three years with farmers and officials in the province before the launch, and the coffee will initially combine arabica beans from Latin America and the Asia-Pacific with local Yunnan beans. But Coles said they hope to develop a source of superpremium arabica coffee from the province, expanding it to new brand offerings in China, and then internationally.
The new blend will be called "South of the Clouds", the meaning of Yunnan in Chinese.
Wang Jinlong, president of Starbucks in China, said the company wants to make its coffee from China as well known and as good as quality as Chinese tea.
Starbucks opened its first store in Chinese mainland in 1999, and now has more than 350 stores in 26 cities. The company began shutting around 600 stores in the US and 61 in Australia last year as part of its nearly yearlong campaign to reverse slowing sales and falling profits.
Coles would not say how many stores they planned to open in China in 2009, but said the growth rate could accelerate in the coming years. The company opened 40 stores last year in China.
"The reality is we have so much space for growth in China, we're barely scratching the surface even today of what we think the demand potential is for this market," he said.
Starbucks cut its expectations for new international store openings last year, from about 700 net new stores during the 2009 fiscal year, down from an earlier estimate of about 900 net new stores. The company currently has 13,000 stores worldwide.