"For me, life is one adventure after another."
Like many successful entrepreneurs in China, 57-year-old Wang Shi is an enthusiastic fan of adventure sport. In particular, he enjoys hiking. In 2003, he reached the peak of Mount Everest, and following that, he managed to place his footprints on the highest mountains across seven continents, ranking him among only four Chinese people to have ever achieved this.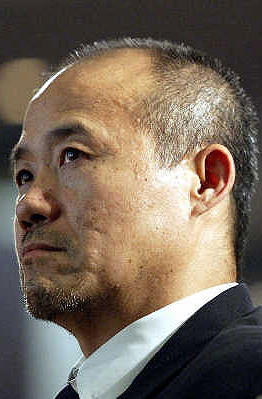 Wang Shi, a Chinese real estate tycoon, was seen in this undated file photo. [China.org.cn]
Wang Shi owns Vanke Co, China's the largest residential real estate development company. The company is engaged in developing, managing and selling properties across 20 cities in the Pearl River Delta, Yangtze River Delta and Bohai-Rim Region.
By all standards, Wang Shi is a successful businessman. All along the way, he has been exploring different areas in business with the same adventurous spirit he used in conquering the highest mountains in the world.
His first adventure can be traced back to the 1980s. Back then, he was a liaison person in the provincial Foreign Trade and Economic Relations Committee of Guangdong. The job was stable and envied by many. But that wasn't enough for Wang Shi.
"I felt depressed. My life was slow-paced. In my work, I saw a huge gap in the living conditions of different people. I also wanted to try my hand at business and improve my own life."
Wang Shi quit his job in 1983. He was still not sure what to do, but he knew where to go: Shenzhen, the very frontier of China's Reform and Opening up.
"Shenzhen was like a bustling construction site in my eyes. I knew that's where I could make the most of my talents and start my enterprise."
He soon found an opportunity in the corn business. The neighboring city of Hong Kong relied heavily on Shenzhen for chickens. As a result, Hong Kong was also in need of corn to feed those chickens. Through his personal connections Wang Shi established a channel to transport corn from the Mainland to Hong Kong.
He earned his first pot of gold from this business. In three months, he already had over 400 thousand Yuan in his pocket. Yet he didn't realize that his first major challenge was awaiting him, just around the corner.
Hong Kong discovered cancerogenic elements in the chicken feed. Almost overnight, the market for chickens dried up and people turned to pigeon meat as a substitute.
As a result, corn suddenly became worthless.
"All the railway wagons at Shenzhen's north freight station were filled with corn. Most of it was mine. A lot of corn was not unloaded and stayed on the wagons. It was typhoon season. When the typhoon came, water poured into the wagon. The corn became fermented and useless. It was really disastrous!"
Wang Shi soon lost his first pot of gold. What made things worse, he was in debt for more than 700 thousand yuan. That was Wang's first taste of going bankrupt. He says he fell into a good sleep after the blow but after waking he made a surprising decision. He called all the corn suppliers on the Chinese mainland and told them that he wanted all of it.
"I never believed that people would quit eating chicken. The flavour of pigeon and chicken is totally different. If people in Hong Kong were to restart eating chicken, they would also need my corn."
All or nothing, Wang Shi decided to risk everything on that single venture. As he had no money to pay for the corn at that time, he persuaded the suppliers to let him pay within 100 days. That means if he couldn't sell the corn within 100 days, he would be drowned in debt.
Two or three days before Wang Shi's corn arrived in Shenzhen, the Hong Kong media released some breaking news. It proved that the previous news about cancerogenic chicken feed was not true. Corn, once again, became a hot commodity.
"I was standing at the Chiwan wharf, watching a dozen of trucks carrying my corn into Hong Kong. Excitement took the place of pressure in my heart. It seemed things had never been so good for me. That was one of the rare moments in my life that I felt so excited."
Wang Shi carried on with his business adventures. There was a time when he was the biggest importer in Shenzhen. He imported copiers, computers and video tape recorders and sold these commodities to domestic customers.
In 1988, when Wang Shi entered the 37th year of his life, he started to shift his business to real estate. That year, he started his company called 'China Vanke'. Vanke was listed on the Shenzhen Stock Exchange in 1991, being only the second listed company. By doing this, Wang Shi was a pioneer in assisting his company to become a modern enterprise.
After 1992, the stock market and the real estate company became popular and many tried to get involved. Some real estate business could make a profit of more than 40 percent. But Wang focused on improving the quality of his projects. Actually, he made a rule in his company that if a deal made a profit of more than 25 percent, they would drop it.
Today, Vanke is the leading real-estate company in the country, and has won many national awards including the "China Award for Architecture".
Wang Shi says he would like to position his company as the pacesetter, rather than the leader, in the real estate industry.
"Leader and pacesetter are different concepts. A leader must be the No.1, while a pacesetter pioneers for others and may lose its leading position in the end."
Now, Wang Shi has resigned from his position as Vanke's CEO and has become its Board Chairman. Releasing himself from the management work, he says he will engage himself more in activities for the public good.
"As my influence and my company's influence increases, we are now able to contribute more to social service and charities. I would like to influence more people with my own efforts."
Wang Shi says life is an endless adventure, and he will move on to face the next one.