A new book on Tibet has been published in China to give readers both at home and abroad a true picture about the southwest Chinese region that has been in spotlight for almost the whole of 2008.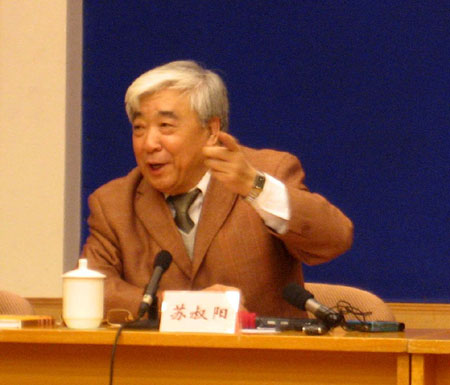 Renowned Chinese author and screenwriter Su Shuyang speaks at an introduction of his new book Tibet Reader in Beijing, December 30, 2008. [Liu Shanshan/chinadaily.com.cn] 
Tibet Reader
, published in December, covers important events in Tibet over 1,400 years, unfolding the origin, development and current state of Tibet from its history, geography, religion, people to culture.
"Tibet's history is not merely about Tibetan Buddhism, but a part of the Chinese nation's history," said Su Shuyang, a well-known Chinese author, last week when introducing his new book in Beijing.
Su got the idea of writing the book at the 58th Frankfurt Book Fair in Germany in 2006, when he was promoting his latest magnum opus A Reader to China, which received raves across the world.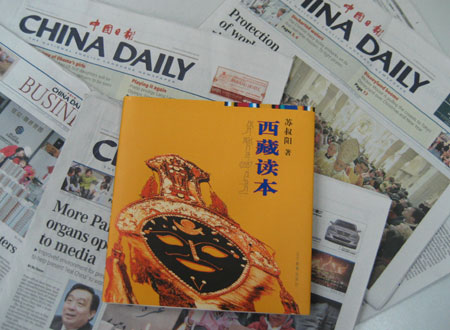 The photo taken on January 4, 2009 shows Su's new book Tibet Reader. [Liu Shanshan/chinadaily.com.cn]
While in Germany, some people suggested that he write a book to objectively introduce Tibetan history and the present Tibet from a historic and academic angle, which is expected to help foreigners understand the truth about Tibetan issues.
Tibet Reader is just the book to disabuse people of their misunderstandings about Tibetan issues. Apart from comparisons between Tibetan Buddhism and Chinese Buddhism, the book investigates Tibetan history and culture against a backdrop of the Chinese nation's culture, and even of the world.
According to Su's preface of the book, it is neither a general history nor folklore monograph, but an in-depth and straightforward probe into Tibet and people's maze of its mystery. "It sketches a good prospect of Tibetan people's life and of Tibet itself."
"Tibet Reader has drawn the interest of many foreign publishing companies," said Yu Xiaoqun, deputy general manager of the Liaoning Publishing Group, which published the book. "Seven languages of translation scripts have been planned for the book, including English and German," Yu said.
Su Shuyang is a renowned author and screenwriter in China. He has composed more than a dozen influential contemporary works so far. Most of the works are about grassroots life in China and many have been translated into foreign languages and Chinese minority dialects. His books have enriched the lives of many, especially during the 1970s and 80s.
In the process of writing Tibet Reader, Su consulted more than 200 literature reviews and 50 video documents about Tibet.