JINAN -- Police in east China's Shandong Province  arrested two suspects in Saturday's firework plant explosion that killed 13 people and injured two.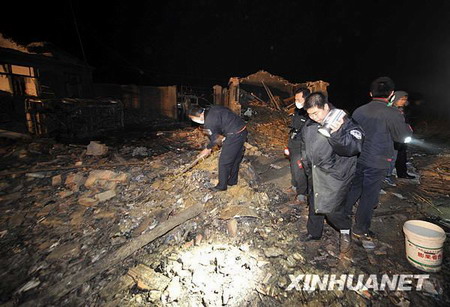 Police check at the explosion site of a local firework plant in east China's Shandong province, Sunday, January 4, 2009. The balst killed 13 people and two suspects were held for investigation, according to local police. [Xinhua] 
Related readings:


 Campaign snuffs out unlicensed fireworks


 Six jailed for firework plant fatal blast in Inner Mongolia


 Four killed, two injured in firework plant blast
Ling Xi'en, 45, and his wife Lao Lanying are accused of allegedly producing and selling the explosives without authorization, said Qu Zhifan, the provincial public security department chief.
"The couple rented a deserted kiln in Weifang City in November, alleging they were running a paint warehouse," Qu said at a press conference Monday. "Neighbors said they were not aware of the underground workshop until the blast went off at 4:30 p.m. Saturday."
Police found 16 people at the plant, 13 of whom were already dead. Only one person escaped without injury.
Chinese businesses have stepped up producing and selling fireworks in the run-up to the Spring Festival, the most important Chinese holiday. This year, the festival falls on January 26.
Another 11 people have been killed in four separate illegal firework plant explosions in Guangdong, Hunan, Shandong and Hebei provinces since mid-November, according to the State Council Work Safety Commission.