Li Ning, a Chinese IT worker, was eager to buy a 3G iPhone directly from overseas. Five days after he clicked the payment button on his computer in his cozy Shanghai home, the Apple product arrived from the United States.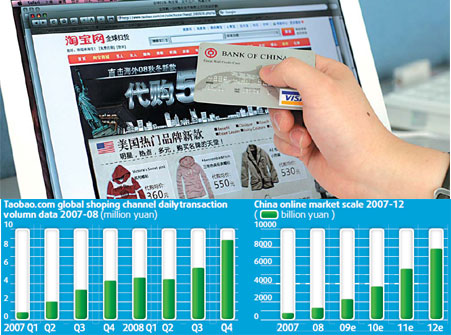 "It's convenient and fast to buy high-quality foreign products online," he said, adding the rising yuan makes it a good time to buy from abroad, especially from America. The iPhone costs him about $600, including purchasing agent fees, customs duty and shipping charges, but was still 300 yuan cheaper than a genuine 3G iPhone in China. And he didn't have to spend hours scouring through clever knockoffs for a smuggled genuine iPhone in a Chinese cell phone market.
"I even tell my girl friend to buy her favorite Clinique cosmetics online," he said.
Li Ning is just one of millions of Chinese shoppers spending billions of yuan internationally online. While governments across the world struggle to boost private spending amid a slowing economy, industry insiders believe online shopping in China will defy the downward trend.
"The advantages of online shopping such as low prices, wide options, appeal to fashion-conscious young people and the strength of the yuan have combined to make it a profitable business despite the current economic stagnation," said Alamusi, associate director of the policy and law committee of China E-business.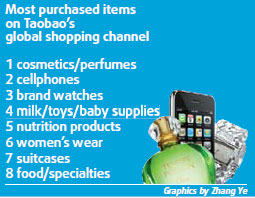 Chinese consumers display considerable zeal on the web for foreign products, flouting the country's traditional culture of squirreling away savings. Taobao (www.taobao.com), China's largest online auction site, has seen the transaction volume of its global shopping channel rise at a three-digit rate each year since the channel launched in 2006. The average daily amount spent on the channel last month was 10 million yuan, almost four times WalMart China's average daily intake in 2006.
American purchases rank fourth on the global shopping channel by volume, but rank first in amount spent per deal.
"Our exploration of the American market lags behind our exploration of Europe and East Asia, but we can't neglect the huge opportunities the America retail market could yield," said Zhang Yingxing, head of Alipay's overseas business department.
Taobao's rapid success compelled Alipay, a Chinese version of e-commerce payment transfer giant PayPal, to introduce a new service enabling overseas retailers to sell products directly to mainland consumers in 2007.
So far the average monthly amount spent on international products on Alipay is 8 million yuan. "It is a small number compared to Taobao but we can catch them," said Zhang.
Chinese online shoppers' habit of trusting a third-party for payment transfer instead of paying by credit card online will quickly popularize Alipay, the largest such domestic company dealing with international merchants, he said.
Alipay's new service is already growing at a brisk clip. It has 250 partner retailers based in Hong Kong, East Asia, Japan, Europe and America, just 18 months after launching, supplying everything from cosmetics, clothing and jewelry to household appliances and digital gadgets. Its membership leaped from 90 million in September 2008 to 120 million at the end of the year, after it increased cooperation with some key American retailers.
Zhao Xudong, CEO of the American retailer Yueyang (www.overseadeals.com), currently Alipay's major US partner, is confident the business will continue to be robust. "We've had steady growth in visiting volume and monthly turnover since the website became technically functional at the beginning of 2008," said Zhao.
"Cosmetic products, brand name apparel, nutrition products and the latest electronics are the most popular purchases," he said.
Most of Alipay's American partner retailers are new and small, unlike other big Asian e-shopping sites, such as Japan's J-shoppers, which partners with big American companies. But Alipay is trying to form a service partnership with several large US electronics businesses, said Zhang, declining to name the companies.
In a sign of just how the lucrative the market is, Visa, the world's largest electronic retail payment network, promotes merchandise from 300,0000 American companies such as Amazon.com, Nordstrom and Old Navy, to its non-North American cardholders through OneNow.com, a newly launched online shopping site. OneNow.com's shipping partner, comGateway, operates an identical site, GlobalEshop.com with American Express. The sites help merchants reach millions of Asia-Pacific credit cardholders without upfront marketing costs.
Lu Ping, a female AliPay employee, said young, relatively affluent women are the site's biggest user group, not yuppies.
Alipay's female users are astute at banding together to place group orders, resulting in reduced shipping costs per pound, said Lu.
This is just the beginning of the boom for online business shopping services that bridge Chinese consumers and international retailers, according to industry insiders.
Taobao.com said online shopping accounts for just 0.64 percent of all retail sales in China right now, but will likely make up 5 to 8 percent by 2012.
The market potential is big; China has 253 million netizens, more than the US, as of June 2008 according to China Internet Network Information Center. E-shoppers in China spend 126.3 billion yuan a year and the total amount spent online increased 125 percent in 2008, according to a survey by Shanghai-based research agency iResearch Inc. The agency predicts Chinese e-shoppers could be spending 569 billion yuan a year by 2012.
"I believe our business model is heading in a good direction," said Zhao, the American partner of Alipay. "We are determined to grow."