For the Chinese, 2008 is unforgettable year.
The country experienced historical events such as record-setting snow storms in south and central China, a disastrous earthquake which killed tens of thousands and of course there were the Beijing Olympics and China's first space walk. It wasn't just events that made 2008 memorable.
People, be they respected experts in a certain area or controversial figures, also have their images deeply-rooted in the minds of Chinese. Xinhua's top ten most memorable faces of 2008 are:
-- Zhai Zhigang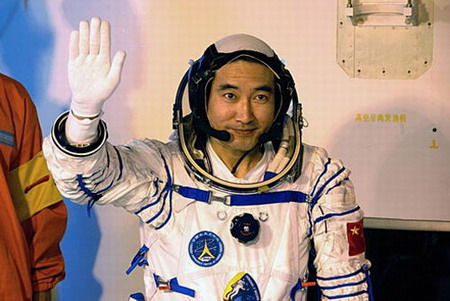 Zhai Zhigang [File photo from Lanzhou Morning Post]
It was a small step by Zhai Zhigang, but when China's first taikonaut walked in space, he solidified the country's place in scientific history.
On September 27, millions of Chinese watched his maiden 20-minute space walk on TV. The feat made China the third country in the world to successfully send a man on a spacewalk, after Russia and the United States.
When Zhai popped out of the space craft in a Chinese-designed space suit, the 42-year-old became a national hero.
The son of a snack vendor, Zhai dreamt of flying in space as an impoverished teenager. He was selected as the backup taikonaut for China's first manned spaceflight in 2003 and then again for the second mission in 2005. He missed out on both.
Through perseverance, Zhai presented the world with a face of courage that was out of this world.
-- Justin Yifu Lin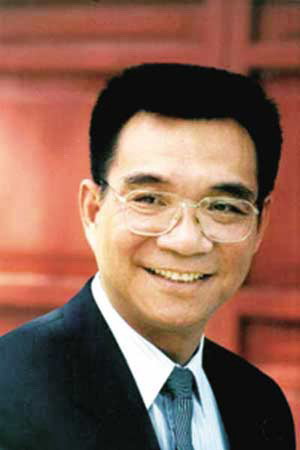 Justin Yifu Lin [File photo from people.com.cn]
In February, Justin Yifu Lin became the first person from a developing country to be appointed as World Bank chief economist and senior vice president for development economics.
A self-made man, Lin earned a PHD from the University of Chicago. He returned to China in the 1980s and became the founder and director of the China Center for Economic Research at China's prestigious Peking University.
Lin is well known for his work on fiscal decentralization, enterprise reform, urban and rural modernization and agricultural innovation and reform.
His appearance on the world stage early this year, set the country alight with hope that a Chinese would make contributions to economic globalization.
-- Wu Jiafang
Wu Jiafang Carrying His Wife's Body Home [File photo from newssc.org] 
Wu Jiafang, became a disaster hero after the May 12 earthquake for trying to preserve the dignity of his dead wife.
He was photographed with her body tied to him while he was on his motorbike. After retrieving her from the quake's rubble, he wanted to drive her body to their home and bury her there.
Wu's image came to represent the heroic, selfless acts of many during the earthquake including policewoman Jiang Min. She continued to help quake-victims despite losing 10 family members. There was also middle school teacher Tan Qianqiu who sheltered his four students from quake debris with his arms.
As time goes by, their faces still linger in the memory of the Chinese people who were deeply impacted by what happened in Sichuan.
-- Zhou Zhenglong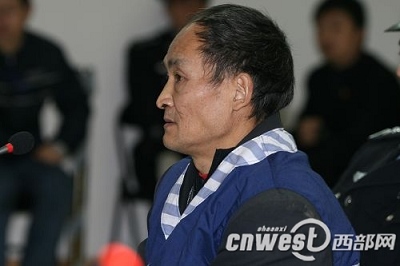 Zhou Zhenglong, who was accused and found guilty of faking photographs of a critically-endangered tiger species in the wild, stands second trial Monday, Nov 17, 2008 in northwest China's Shaanxi Province. [cnwest.com]
The real power of the Internet was realized in 2008 as netizens became empowered to expose scandals and corruption.
Zhou Zhenglong, a farmer from northwest China's Shaanxi Province, became a household name after being exposed for faking photos of a tiger subspecies believed extinct in the wild in China.
The pictures, created by Photoshop, prompted widespread media speculation, but surprisingly won the support of local forestry authorities.
Netizens, however, found an old Lunar New Year poster showing a tiger which looked exactly the same as Zhou's photo. He was then arrested and in November, sentenced to two and a half years in prison with a three-year reprieve.
The scandal also brought down 13 government staff in Shaanxi who were either sacked or reprimanded.